Building a seawall is a great way to protect and enhance your waterfront property. Seawalls prevent erosion, control waves, and have the added bonus of increasing property value. There are several seawall materials available, each one suitable for different conditions and applications.

Related Blog: What is a Seawall and How Does it Work?
Consultation is Important
No single material is perfect for every seawall. Before you begin seawall construction, consult with an established and knowledgeable marine contractor like Duncan Seawall, Dock & Boatlift to determine which materials best fit your particular needs and budget. During the consultation process, we will discuss the entire range of choices, and explain factors such as:
Location & Accessibility
Size of the Seawall
Weather Concerns
Marine Conditions
Cost


Wood
Although it is the oldest material used for this type of construction, wood is not generally used for seawalls, but has many applications in retaining walls and marine barriers.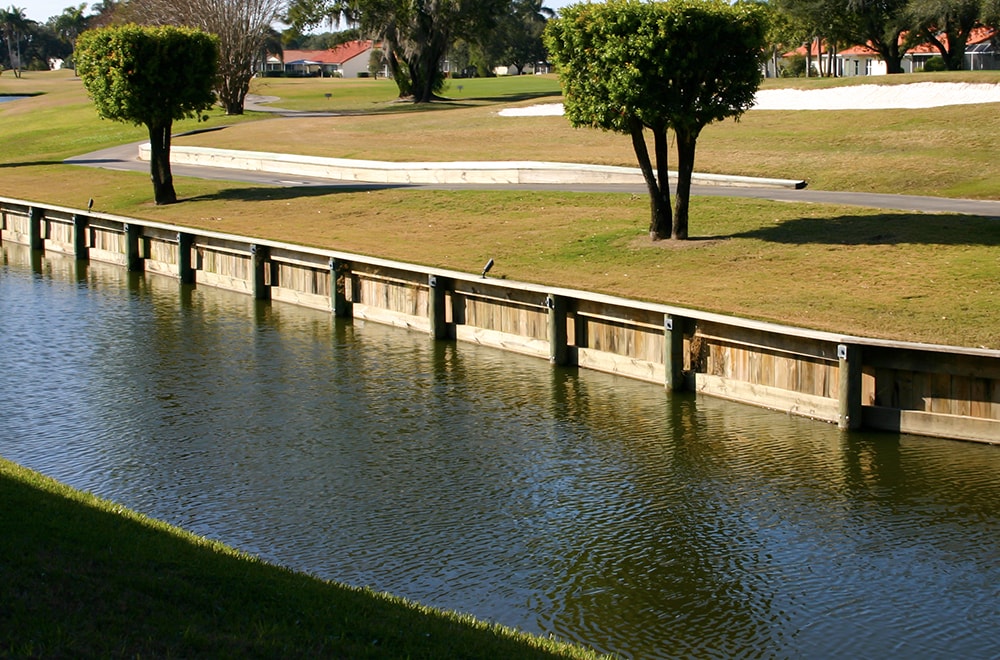 In freshwater retaining walls, or walls that are built above the water line, wood is an affordable and popular option. Another factor to keep in mind is the strength of the wall being built and conditions it will be exposed to. Wood tends to warp and decay sooner than other materials in salt water.


Metal
Steel and Aluminum seawalls are an economical way to build a seawall. Metal tends to stand up well to weather extremes, but will corrode or rust over long periods of time.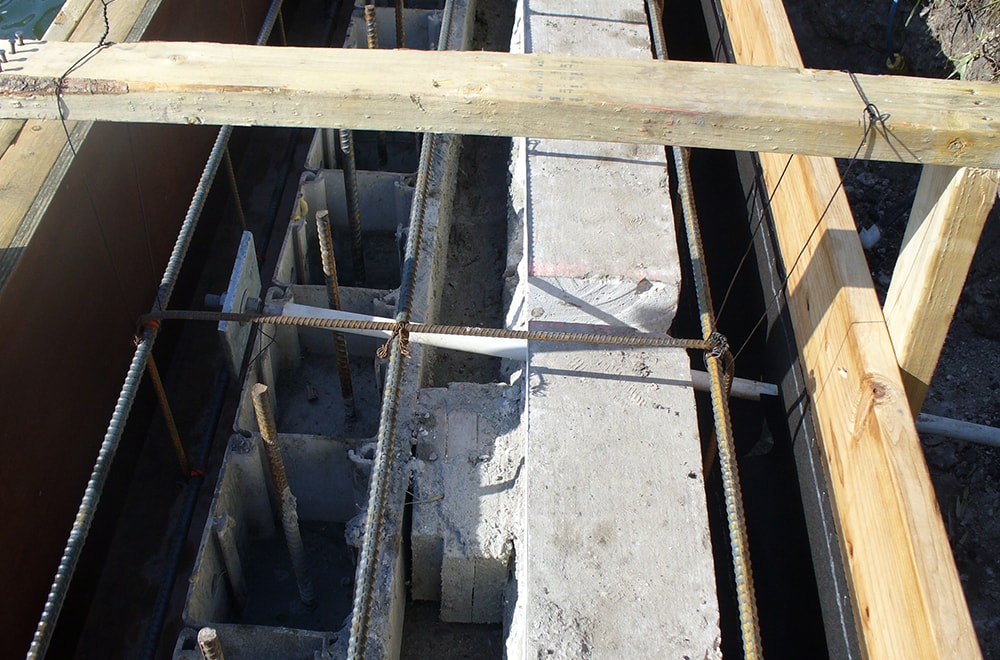 It is not unusual for metal and concrete to be used together, creating a stronger, longer lasting seawall. The downside of a metal seawall is that it usually requires heavy equipment that may be difficult to get into small or ecologically sensitive areas.


Concrete
Concrete is one of the most durable materials used in seawalls. A concrete seawall will last for decades and require little or no maintenance.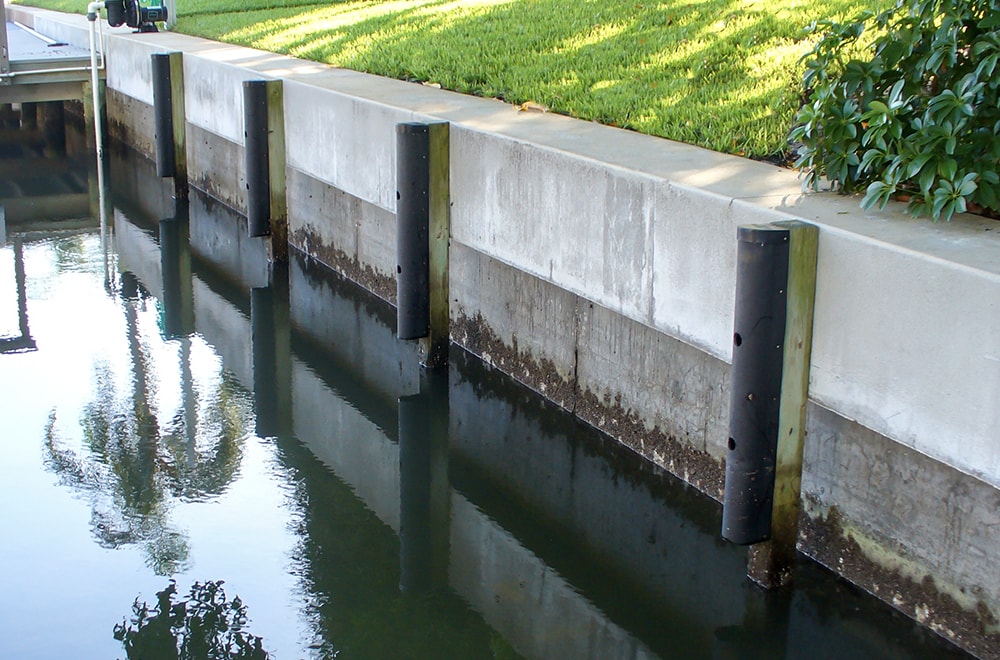 Concrete panels are preferable in large seawalls, since reinforced concrete is stronger than most other materials and can be custom designed for aesthetically appealing results.



Vinyl and Composites
For small seawalls, or places that are difficult to get into, vinyl or composite materials work very well. Pre-formed panels can be quickly and efficiently installed with minimum heavy equipment, which makes vinyl appealing in environmentally sensitive locations.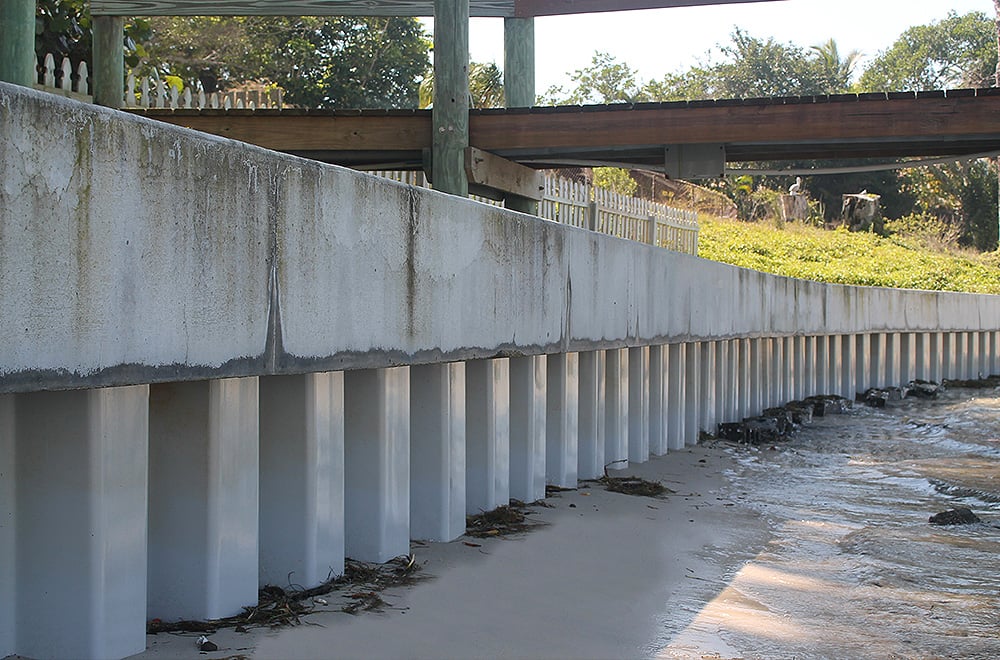 Since vinyl and composite materials are available in a wide range of colors, the seawall does not have to be painted to maintain coloration, and is resistant to fading and staining.
The downside of vinyl and composite materials is that they do not have the tensile strength of metal or concrete. For this reason, these materials are best used in small seawalls or situations where impact from storms and tides are minimal.


Repairs and Reinforcements
When your existing seawall needs to be repaired, raised, or reinforced, vinyl is often the material of choice. It is easier to get into the job site, which reduces traffic and access considerations. Additionally, vinyl or composite materials can be installed without removing the existing seawall, providing reinforcement and aesthetic appeal at a reduced cost. Interlocking panels will reduce the potential for erosion, and that translates into a longer lasting seawall with less maintenance and repair over time.


Contractor Concerns
The marine contractor who installs your seawall will influence the cost and efficiency of the job, including incidental considerations such as permitting. Look for a company that has an established reputation as seawall installers, along with the resources to get the job done right, on budget, and on time.
If the seawall will include lights or other electrical facets, choosing a contractor like Duncan Seawall, who has their own in-house electrical team, will save you money and provide a seamless construction process.
---
Duncan Seawall, Dock & Boat Lift has been serving Southwest Florida since 1979. We maintain our own fleet of equipment, including a large array of marine and land-based construction equipment. We have the staff to handle the entire job, from initial consultation to electrical work, and cleanup after the job is complete. To find out more about seawall materials, or to schedule a consultation at your location.