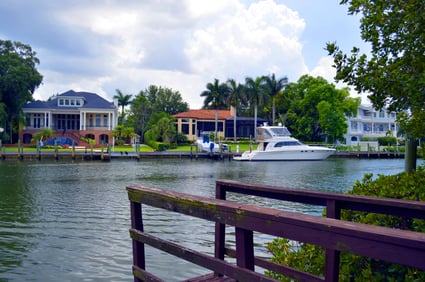 Sarasota is filled with beautiful waterfront homes and homeowners who love their boats. Located just a few nautical miles south along Florida's central west coast, you'll find Sarasota with placid Gulf of Mexico waters that are easy for boat owners to navigate.

Related Blog: Dock Installation Sarasota, Florida
Sarasota boaters can moor at Marina Jacks, in the heart of downtown, with a full-service fuel dock and berths up to 200 feet. For a more private excursion, the Sarasota Yacht Club accommodates yachts up to 120 feet in length. Siesta Key, with eight miles of bay front property, is known for its quiet canals with beautiful waterfront homes and custom boat docks. It's no secret that Sarasota provides residents with a relaxing, boating lifestyle and some of the best boat docks around.
What Type of Boat Dock is Right for Your Property?
Permanent Docks
Permanent boat docks are constructed with steel pilings that offer great stability. They're available in a wide variety of sizes and work well in areas where the water level remains relatively stable. Permanent boat docks are one of the costliest types of docks, but a good choice for homeowners who want little dock maintenance.
Pipe Docks
Pipe docks, built on legs, are constructed with aluminum frames and removable decking. They can be custom designed in L shapes, T shapes and U shapes, and built in various straight lengths. Pipe docks work well in certain Sarasota areas where water levels aren't too deep and stay fairly level. They are one of the most economical types of docks and offer sturdy decking.
Floating Docks
Floating docks work well in areas with deeper water, fluctuating water levels, and mud or sandy bottoms. Floating docks, made with commercial steel tube floats or foam-filled plastic billets, can be built in a variety of shapes, widths and lengths. In waterfront areas that get a lot of waves from boat traffic, a wider dock is recommended for stability.
Duncan Seawall is Southwest Florida's largest marine contractors. They provide a variety of waterfront structures and dredging services throughout Sarasota, Charlotte, Manatee, Pinellas and other surrounding counties.
At Duncan Seawall Dock & Boat Lift, a full service marine construction company, we focus on the individual building needs of each customer. Whether you need to build a large commercial marina or a private residential dock, we provide turn-key service from permits to clean up.