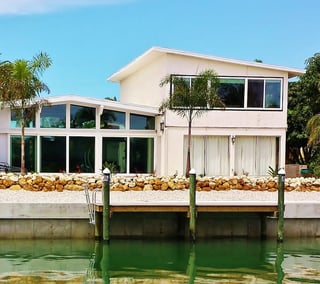 Over time, seawalls age and deteriorate. This is caused by waves striking the concrete slabs, severe weather, heating and cooling cycles in the concrete, and more. The important factor is that a seawall needs to be renovated when it begins to show signs of wear.

Related Blog: How a New Seawall Can Increase the Value of Your Home
Increased Home Value
Living on a coastal or waterfront property in Florida entails weather and tide related dangers that can be reduced with a new seawall. Seawalls enhance the value of a home, and a private seawall or dock is a popular trait that many buyers look for.
Installing a New Seawall
With talk of rising sea levels and severe weather patterns, having a seawall to protect your property is a positive investment. Seawalls can even be installed as part of a boat lift installation to consolidate time and possibly costs. Because seawalls reduce erosion, seawall construction helps protect the depth and quality of your boat slip as well.
Cracks in Existing Slabs
If your existing seawall shows cracks in the slabs, it may be a sign of age or weather damage. Cracked slabs allow particles to penetrate, slowly acting as a wedge to drive cracks wider. Cracked slabs indicate the seawall is failing and should be replaced.
Erosion Behind Seawall
Erosion at the back of the seawall may be a result of cracked slabs, but can also occur for other reasons. In some cases, erosion occurs beneath the seawall, or around the ends. Erosion from your property can clog a boat slip over time, requiring you to dredge for acceptable boat access.
Exposed Rebar
Over the years, seawall caps will show wear. As the concrete is slowly worn away, rebar may become exposed. If this has happened, your seawall might be losing its integrity, and could be moving toward a major seawall failure.
Gaps Between Slabs
The slabs in a seawall are connected together, but the forces of nature or accidental damage can loosen them. This allows the slabs to slip apart a little at a time, weakening the seawall and allowing erosion to occur.
Whether you are installing a brand new seawall or replacing one that is in bad shape, Duncan Seawall is ready to assist you. We have the staff for all stages of your marine project from initial design and permitting to electrical and environmental protection. To find out more about new seawalls, contact us today.