Seawalls are one of the single most expensive aspects of a waterfront property. The seawall must withstand some of the most brutal conditions of any structure built today. Cracking, bowing, or erosion of the ground behind the wall can be signs of trouble. Heavy loads due to high levels of ground water, violent storms, and marine borers are just a few of the hazards to consider when evaluating a seawall. Duncan Seawall has been in business since 1979 and has maintained an excellent reputation for always being honest with our customers.
Related Blog: Why Work With Duncan Seawall to Install Your New Seawall?
The last thing a real estate agent or a Duncan Seawall representative wants to do is ruin a potential real estate sale. That is why we recommend you carefully evaluate the seawall system using this outline PRIOR to listing the property. This way, the seawall can either be repaired or if not repaired, taken into account when valuing the property. If you have any questions or do not feel comfortable with what you see, call Duncan Seawall for a free seawall evaluation. By ignoring the problem now, you may be creating a larger problem during the due diligence period.
This series of blogs will help you evaluate what kind of problem your seawall may have. Continue to check our blog weekly for more information on the different types of erosion or cracks and what they mean for the future of your seawall.
Erosion hole behind wall caused by soil slowly seeping through the seams between the seawall panels. There is no evidence of cracking in the seawall cap or seawall panels. This can typically be repaired by excavating the soil behind the wall, installing filter cloth over the seawall seam and back filing with crushed shell. Typical cost for an erosion hole repair is approximately $500.00.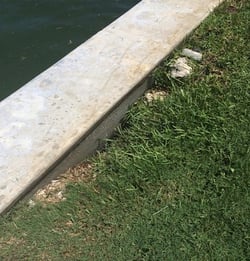 This picture shows a sealant which was applied to the cap and is flaking. This is not an indication of any structural deficiency, however, it does indicate additional sealant needs to be applied.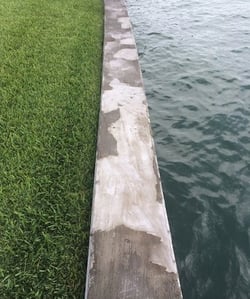 Please feel free to contact us if you have any questions. Thank you and remember, Duncan Seawall, Dock and Boat Lift is here to help you make the sale!