It's that time of the year again to make sure that you, and your waterfront property, are prepared. At Duncan Seawall, Dock, and Boat Lift, we hope that Southwest Florida is spared from major activity. We also understand that the best defense against severe storms is to be prepared.


Related Blog: How to Prepare Your Boat Lift and Dock from Severe Weather Conditions
This article will help you get everything in order before an emergency strikes, minimizing the damages to your waterfront property in Southwest Florida.
Docks and Seawalls to Protect Your Property
Making necessary repairs ahead of time can save you from higher property repair costs later, or even from being severely damaged. If your home is located near the waterline, your seawall may be the best line of defense against storm surge.
Having pictures or videos of your docks and property may help with FEMA or insurance claims if disaster does strike.
Here are a few more tips to help protect your property when the storms hit:
Inspect Docks and Decking—

Before hurricane seasons starts, inspect your docks and seawalls. Look for loose decking or worn pilings. A piece of decking that is already loose could easily be gone after the storm. Loose decking and erosion around seawalls should be addressed before storms make this a bigger problem.
Secure Everything—Store ropes, chairs, flags, and other items in an enclosed building. If it could be moved by hand, it can easily be tossed by high winds. Make a checklist now, so that securing your property will be easier later. You are responsible for any un-secure possessions that may damage someone else's property.
Turn Off Power and Water—While it is not strictly mandatory to turn of the power and water to your dock, doing so can prevent a large water bill if a pipe breaks, and reduces the chance of electrical shorts and fire.
Protecting Your Boat During a Hurricane
There are a few options for protecting your boat. You could move the boat out of the water, anchor it in deep water offshore, or secure it to a dock. Before you assume that one option is better than the others, let's look at the options:

Dry Storage (marina)—Storing your boat in a bay, such as those available at marinas, may not be the best choice. These locations, though roofed, tend to be built sparingly and may suffer extreme damages in heavy winds.
Dry Storage (home)—If your boat is on a trailer or stands, make sure that it is securely strapped down. Jack stands tend to wobble a bit in high winds and could easily become dislodged. Partially filling the boat with water can avoid toppling.
Anchorage (offshore)—Anchoring your boat offshore eliminates some dangers, but introduces others. Offshore anchorage should be a last resort.
Anchorage (dock)—If your boat will be left at a dock, secure it firmly. First, a floating dock with high pilings is the most secure option, as storm surges often swamp boats at fixed docks. Next, use fenders, rubber bumpers and strong rope and make sure the boat will not bang against any fixed structures.
Home Protection During Hurricane Season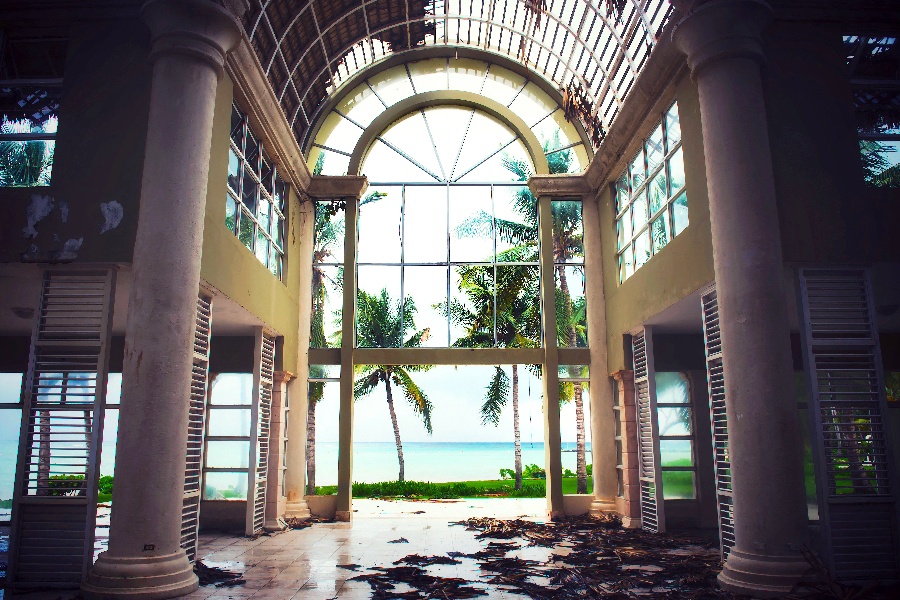 Hurricanes can have an impact on property anywhere in Florida, but waterfront property is especially vulnerable since there are not any barriers to the high winds and storm surge. If a storm blows in, make sure that you have all of the preparations in place.

Windows—Storm shutters are the best protection for windows. If shutters are not an option, the next best idea is to cover the windows with plywood. Keep in mind that lumber may be in short supply immediately prior to a storm's arrival, so maintaining the necessary stock of wood for covering windows is a good way to avoid markups and material rushes. At the very least, place heavy tape in an "X" and "+" patterns over exposed glass to prevent glass becoming scattered throughout the home.
Doors—Make sure the weather stripping and thresholds of your doors are in good condition. If the home is in a low-lying area, sandbagging around all entrances will help prevent interior flooding.
Property—Put your important documents, photos, and other irreplaceable property in a safe, waterproof place. The best idea is to store them offsite or take them with you. Remember that storm surges can reach 20 feet or more above the median water line. Do not leave tools, outside furniture or lawn equipment outdoors.
Protecting People and Pets From Storms
Living in Florida means that you need to make arrangements far in advance on how to make sure your family and pets are safe. Your family needs advanced planning as well, and experts advise keeping at least 3 days of canned goods and water on hand.
The Impact of a Failed Seawall


---
As a leading marine construction company in Southwest Florida, we can help you plan for hurricanes by installing seawalls, floating docks, and other defenses against rising tides and high winds. Whether you need deck repairs or want to build one that will last for decades, we would be happy to help.