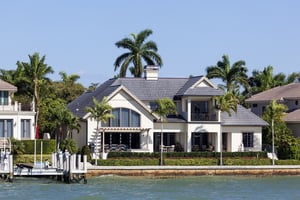 Owning a waterfront property in Southwest Florida is like owning a slice of heaven right in your own backyard. Whether you own a home or business, protecting it should be a high priority. A key component to increase your property value and create the first major line of coastal defense can be summed up in one word - seawall. By building a seawall on your shoreline, you'll instantly protect and enhance your waterfront property.
Related Blog: 5 Reasons to Choose a Seawall Over Rock Revetment
A seawall provides the ultimate protection against coastal flooding, erosion, and controls waves. It's a manmade structure available in several different materials based on which conditions the wall will be built in. Seawalls are essentially a structural boundary between the sea and land.
Benefits
Protects Property from Flooding - High volumes of rain can cause water levels to rise very quickly during a storm. Flooding can come on very fast and cause a tremendous amount of property damage. By having a seawall installed, your property will have a significantly higher amount of protection versus a property without a seawall.
Protects Land from Erosion - Over time, waves that are in large bodies of water push up against the land. This causes the land the break-up and goes back into the ocean, resulting in less land and more water. If you own a waterfront property you are aware of just how devastating losing land can be. By installing a seawall, the line between your land and the shore stays in place by reflecting the waves back to the sea. Leaving you with fewer worries and more land to enjoy.
Protects the Environment - Once the seawall is built, local animals will be protected from the effects of land erosion and flooding in their living environments.
Provides Recreation - Not only do seawalls protect, they also provide an excellent space for biking, exercising, and walking. Sightseeing is safer than ever for visitors since the seawall provides protection when the water levels and waves are high.
Cost Effective - Seawalls really don't take up much space. Less land is compromised therefore the construction is affordable compared to other forms of sea/land defenses. The upfront cost is well worth it, rather than having to repair your shoreline over and over again.
Lasts a Long Time - Another positive to note, seawalls last decades! Many gulf coast seawalls are over 100 years old and still doing great. With proper maintenance and the best professional contractor, seawalls will protect your waterfront property for many generations to come. You'll have peace of mind knowing your property will be protected from waves and flooding year after year with very little to no upkeep.
Consultation
Every single seawall construction is uniquely different. There's no one material that fits the needs of every waterfront property. Consulting with a well established marine contractor such as Duncan Seawall will set you on the right path to figuring out your budget, needs, and other important factors.
Top factors include:
Location and accessibility
Weather concerns
Size of seawall
Cost
Marine conditions
Materials
Concrete - The strongest and most durable material for seawalls. They last for decades and require very little to no maintenance. Duncan Seawall is the leader in installing pre-cast concrete seawalls. They're manufactured off-site and approved by on-site engineers to ensure each panel is the highest level of quality concrete.
Metal - Steel and aluminum are economically popular options. It's long-lasting and extremely strong but corrodes or rusts over a period of time.
Wood - Only used on freshwater properties that don't require strength or corrosion benefits. Wood is a great and affordable option for walls built above a waterline. Wood warps sooner and faster in salt water, therefore it's not typically used on most seawalls.
Vinyl & Composites - Used mainly in areas that are smaller and difficult to get into. They're very easy to build and quickly installed with minimum heavy equipment. Vinyl lacks the strength of metals and concrete so using them in walls where storms and tides are minimal is ideal.
For more information on materials for seawalls, click here.
Installing a seawall is a smart investment for your waterfront property. Not only are seawalls aesthetically pleasing, the protective aspects and benefits are simply unbeatable.
Duncan Seawall, Dock & Boat Lift has been serving Southwest Florida since 1979. We pride ourselves on getting the job done right, on time, and on budget. Contact Duncan Seawall to schedule a consultation or to inquire more information about our services.