We all know that handling electrical components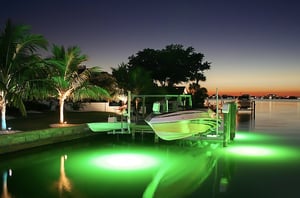 around water can be extremely hazardous. You don't want to be the "path for electricity."
Extra precautions must be taken when working around water and electricity. Not all marine contractors are licensed and trained to handle the electrical portion of waterfront property jobs, and they recommend to hire an electrician. Not all electricians have the credentials to work around water. As found on Engineering Specifier, "anyone can install a piece of wire to make a light work, but if the existing circuit is dangerous then the user is left in even more danger than before work began."
Related Blog: Green Underwater Deck Lights: Why the Color Green


Duncan Seawall Offers Electrical Solutions to Enhance Your Waterfront Property
To offer the total solution to our customers, we are licensed to perform the electrical portion of many waterfront property enhancements to add that final touch to your Florida, waterfront property. As you know we specialize in top of the line docks, and boat lifts. Nothing is more beautiful than to add lights to waterfront properties, docks and boat lifts. The Duncan Electrical Division can add the quiet beauty of lights throughout your waterfront property to make every evening ready for entertainment, relaxation, and security.
LED Deck Lighting
Why not give your waterfront decking and/or dock an eco-friendly solution that will beautifully illuminate your property without incurring high electricity expense? Deck lighting is also a safety feature to help see where you are stepping during the night.
LED Piling Lights
Subtly brighten up your dock and/or boat lift with LED lighting of various styles and colors. You may light cap lighting or run colored, led rope lighting that changes with the seasons.
Vintage-Style Snook Lights
For the fisherman in your family, there is nothing better than lighting the way for a Snook to find its way to your dock as found on FLORIDA SPORTSMAN. Southwest Florida is known for its dock-light, Snook fishing excitement.
Underneath Dock Lighting
Illuminate the waters around your dock with beautiful lights that may attract all kinds of sea life. Enjoy the nature of the sea at night all year round.
Underwater Fish Lights
Enjoy fishing from your dock at night for all kinds of fish. Underwater lighting not only attracts fish, but they also offer a safety feature when maneuvering your boat around your dock at night. Not to mention if you want to swim in the summer water, it might be nice to see what is lurking beneath the water's surface.
Security Lights
You may want a beautiful light pole placed near your water's edge for security purposes.
Security Faux Cameras
Keep security under wraps around your waterfront property without being obvious. You may want to catch a glimpse of that infamous sea dragon hanging around your property.
Solar Kits
Enjoy capturing the energy of the sun with beautiful solar kits around your deck, your yard, and around your dock.
GEM Remote Boxes
We are well versed in the GEM remote boxes for your boat lifts.
Drum Switches
Let us help you keep your boat lift working to lower and raise your boat.
Duncan Seawall - Your Marine Contractor Offering the Complete Solution
Let the Duncan Electrical Division take care of all your electrical needs around your waterfront property. Since 1979, we have been delivering quality marine contracting services to our customers across Southwest Florida. There is never a job too big or too small because we know that our team delivers the expertise of knowledge and skill that every customer deserves. If you're having a problem with electrical function around your waterfront property, or you are thinking about adding electrical enhancements to your property, we are here for you.