Trying to sell your home with a damaged seawall can affect the price you're offered for your home and can even be the deciding factor for someone choosing not to buy your home. Before you list your house, getting your seawall inspected and making the necessary repairs or replacing it altogether can make the difference between selling your home for its full value or not selling it at all.
Related Blog: How Seawall Failure Can Impact Selling Your Home: A Continuation
Here are some more problems you may find when inspecting seawalls and what the recommended course of action is: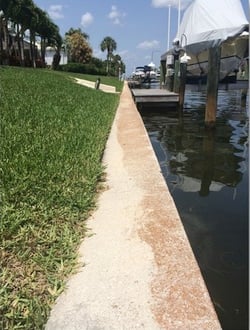 A cap leaning backwards indicates the wall has "toed-out"at the bottom, or the seawall has sheered. Either way, seawall replacement will be recommended.
Significant longitudinal cracks, as well as non-symmetrical cracks in the seawall cap indicate major shifting of the seawall. Seawall replacement will be recommended.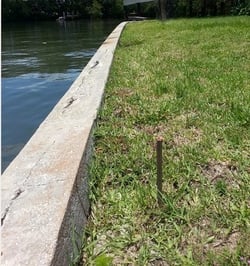 The top of the seawall cap is leaning out, indicating the tieback system is no longer functioning properly. Depending on the severity of the shift, either a new cap and tieback system or complete wall replacement will be necessary.
If you notice any of these issues with your seawall, contact Duncan Seawall and we will be happy to come inspect it at no cost.