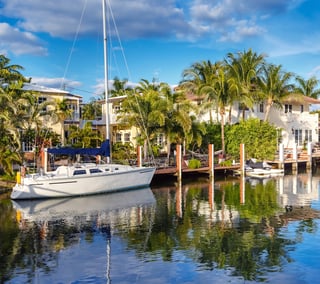 If you live on the water in Florida, chances are you have a boat to enjoy the warm, tropical climate and the scenic coastline. A boat dock is an important feature for your waterfront lifestyle, so it's essential to build one that's durable enough to withstand Florida's weather conditions year-round.
When building a boat dock, choosing the right decking material is a big factor in appearance, durability, maintenance, and cost. It's important to consider all four factors for a dock that will complement the beauty of your property and withstand outdoor elements over time. Take a look at important considerations for different types of decking materials that are available.
Related Blog: The Perks of Composite Decking
Pressure Treated Wood
Pressure treated wood is the most economical option for boat dock decking, but it does require more maintenance than composites and plastics. Pressure treated decking is vulnerable to the sun's heat and UV rays, so it may splinter, crack, warp or even rot over time, depending on how much yearly maintenance is provided. Since wood is subject to moisture retention that can also cause mold, mildew, and algae, power-washing and staining should be done regularly in order to maintain your wood dock.
Composite Wood
Composite wood is an alternative to real wood. It provides the look of natural wood without the required maintenance. Composite decking products are made from plastic and wood and are virtually maintenance free, so you don't need to pressure-wash or refinish them as much. They're strong and durable with little to no warping or cracking, but the weight may require more joist support than pressure treated wood. Newer vinyl-composite products often come with a warranty against fading and staining.
PVC Decking
PVC decking is made from solid-core cellular PVC. It resembles the look of exotic tropical hardwoods, but is weather resistant and requires little to no maintenance. The dense surface won't absorb moisture, so it's not vulnerable to mold or mildew. PVC decking materials will not warp, crack or fade, so you don't have to worry about sanding, repainting, sealing, or even those pesky splinters in your feet over time.
At Duncan Seawall Dock & Boat Lift, a full service marine construction company, we focus on the individual building needs of each customer. We offer superior decking materials for your boat dock that will stand up to Florida weather year after year. Whether you're building a large commercial marina or a private residential dock, we provide turn-key services from permits to clean up.