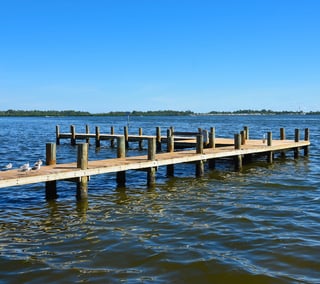 In the past, wood used to be the preferred decking material for many docks. These days wood is increasingly being replaced by composite materials, especially in outdoor environments. Enhancing your home with maintenance-free decking is a great way of providing your visitors with unlimited outdoor entertainment and fun.
Related Blog: Composite, the New Standard for Decking
Durability & Sustainability
Composite decking is more durable as compared to normal wood decking. It is resistant against staining, fading, scratching, and mold formation. In addition, it does not rot, warp or crack, which are common problems associated with wood. Composite decking is splinter-free and insect-free, which makes it safer and much more comfortable, especially for families with pets and kids. Composite deck boards are also made from recycled material, including recycled plastics and industrial wood scraps.
Low Maintenance
When it comes to composite decking, you don't have to worry about issues like staining, painting, or sanding. An occasional water and soap cleaning is enough to maintain its beauty and stability for many years. Some brands even offer warranties of up to 25 years. You'll be able to enjoy composite decking long after its installation.
Composite decks feature rich saturated colors and high definition wood grain patterns. Making the surface look and feel natural. In addition, there is a wide range of color choices to choose, from spicy reds, to pristine grays, and deep earth tones.
Even though the initial cost of installing composite decking might be higher, as compared to wood, when you consider the regular maintenance required with wooden decks compared to composite decks, composite decks have a higher return on investment. In fact, in most cases it will pay for itself by the 10-year mark. Composite decks will also increase the value of your home, more so than that of houses with wooden decks.
If you are looking for durability, sustainability, increased home value and lower maintenance decks, then composite is the way to go. At Duncan Seawall Dock & Boat Lift, we provide the best decking services in the area.