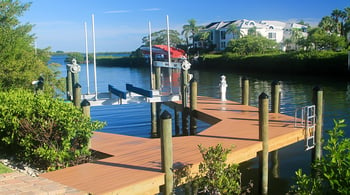 If you're thinking about having a deck built, Trex composite decking is choice that offers many practical advantages in terms of maintenance, appearance, and durability. In addition, you'll be making an environmentally-friendly choice with Trex. It's made with 95 percent recycled material, using some of the most eco-friendly manufacturing processes possible. The company is a member of the U.S. Green Building Council and has employed green principles for over 20 years. It even sponsors a recycling program that allows communities and schools to earn prizes and awards for donating unwanted plastics. Being green is far more than a trend with Trex – it's a part of the company's DNA.
Related Blog: Trex Decks: Florida Deck Rebuilding vs Resurfacing

Trex composite decking is eco-friendly in the following ways:

Recycled Wood
No tree is ever cut down to make Trex decking. Instead, the company utilizes a product that would otherwise end up in a landfill – locally sourced reclaimed wood.

Recycled Plastic Film
Trex is one of the largest recyclers of plastic bags in the U.S. Its decking material is partially made from products such as sandwich and grocery bags, and if you have a 500 square foot Trex composite deck, you've helped keep 140,000 plastic bags from the landfill!

Earth-friendly Manufacturing
The company is at the forefront of earth-friendly manufacturing, even operating trailers on vegetable-based oil hydraulics. It also reduces fuel consumption as well as CO2 emissions at its factories and recycles nearly all of its runoff and waste.

In addition to being green, Trex composite decking is a beautiful material that requires only occasional soap and water or power washing to stay looking its best. For more information about Trex, contact Duncan Seawall, Dock & Boat Lift. We're Florida's largest marine contractor and have the experience you need to help turn your dream of a gorgeous deck into a reality.