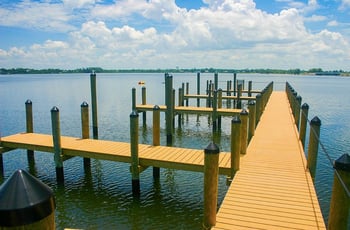 A backyard deck is a terrific addition for any home as it both improves the function and aesthetics of a property. But as with most home improvements, there are a variety of options for you to choose from. One of the more popular options growing among new deck owners is Trex decking. This eco-friendly option is quickly gaining momentum across the country, and for good reasons.
Related Blog: How to Choose the Best Materials for Your Dock Project in Venice, FL

Here's a quick FAQ on building with Trex decking:

What is Trex decking?
Trex is comprised of 95 percent recycled materials including, reclaimed wood, sawdust, and plastics.

Is Trex decking better than a wooden deck?
Trex outdoor products offer greater durability and performance that isn't possible with wood. This means a deck that won't rot, warp, splinter, or succumb to termite and other wood-eating insect damage.

Why is Trex more expensive than a wooden deck if it's recycled material?
The recycled materials that go into manufacturing Trex products are all carefully processed to ensure quality and products capable of withstanding more rigorous use than wood.

What's the lifetime value of a Trex deck?
Here's where all of those careful details in processing really come into play. While Trex decks do cost more upfront, they are low-maintenance and don't require any sanding, painting, or staining. This means reduced maintenance costs in the long term (and with its extended lifespan, that adds up to a huge lifetime value).

What colors and styles are available?
Trex outdoor products are designed to give a natural appearance and come in a great variety of colors, textures, and woodgrains. Choose from a more natural color like walnut or teak, or go with a stained gray look to match your home's facade.

How do I clean a Trex deck?
Cleaning has never been easier! Simply use soap and water to get your decking looking as good as it was new.

Do Trex decks get hotter than pressure-treated wood in direct sunlight?
While most any surface is apt to get uncomfortably hot underneath a blazing summer sun, extensive studies have shown that pressure-treated wood gets hotter than Trex products. For extra precaution, choose lighter colored boards to reduce how much heat gets retained.

Can Trex decking and railings be curved?
Yes, Trex offers unique curves and framings to give your house a unique look.

How heavy are Trex deck products?
Trex boards are 50 to 70% heavier than standard lumber.
For more information about Trex products, contact us at Duncan Seawall. A qualified team member will be happy to help!