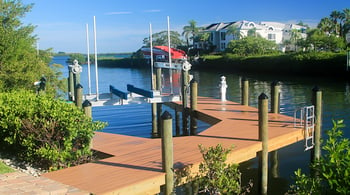 Excited about your upcoming dock project? Well, before you break ground, one of the most important factors in such big projects is ensuring that you utilize the best marine construction materials for the project at hand. Choosing the right marine construction materials will result in an aesthetically pleasing result that is proven to withstand the years and harsh conditions. To help you get a better grip on how to choose the best materials for your dock project in Venice, FL, consider the following advantages and disadvantages of some of the more popular materials:
Related Blog: 8 Boat Safety Tips to Keep Your Dock And Boat In Pristine Condition

Vinyl based boards (like Azek decking)
Advantages:
Azek and similar vinyl based materials require very minimal maintenance and upkeep. Their nonporous makeup means that mold and mildew won't buildup, and general dirt can be swiftly swept away.
In addition, because the color of these boards are solid all the way through, surface scratches and gouges are rendered near invisible.

Disadvantages:
The superior quality and long lasting properties of Azek decking does come at a bit higher price point, but, it's low maintenance factor means you can recoup those costs in the long term.

Composite planks
Advantages: Composite planks are similarly low maintenance, although not quite as much as Azek decking as they are prone to mildew stains. However, a big positive of composite is that it doesn't warp or give the owner unsightly mushrooming where screws are laid in. It's also a long lasting product that is relatively cheap.

Disadvantages: There's the possibility of mildew stains when not properly maintained and the potential for peeling during sanding or pressure washing that may make this a no go choice for some Venice Beach, FL homeowners.

Pressure treated wood
Advantages:
Very budget friendly. For about a 300 sq. ft. project, you can expect to spend a lot less on treated wood compared to composite boards. Pressure treated lumber also has flexibility on its side that it can be cut and stained to meet the unique needs of your marine construction design.

Disadvantages: Unfortunately, while it is very attractively cheap upfront, there's significant upkeep costs with pressure treated wood docks and decking. You'll have to anticipate refinishing these marine construction materials every two to three years with the expectation that the entire dock or deck might only have a lifespan of between 10 and 20 years (depending on the upkeep factor).