Modern boat owners have numerous needs and a wide range of dock accessories to choose from in order to make your dock more useful. Here are our choices for some of the top dock accessories to improve your dock.
Covered Storage / Dock Box
Where do you currently store your fishing accessories, coolers, oars, and life jackets? Dragging all these items from your house every time you need to use them can be somewhat hectic. An excellent solution would be installing covered storage at your dock.
Adding a covered storage unit will increase efficiency and save you time. Equally, you won't have to worry about forgetting any pieces of equipment during your next trip. It will also help to add a safety lock to your storage unit to guarantee equipment safety.


Dock Lights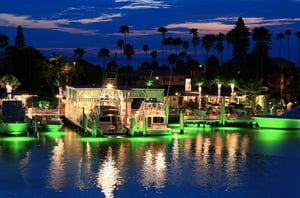 Proper lighting is vital for all boat owners, especially when boating at dusk, dawn, or in the dead of night. Dock lights, underwater or above, can help you safely dock when it's dark out and even attract fish if you want to get in a little dock fishing.
Dock lights also increase security and safety and can help boost the aesthetic quality of your dock. You get to choose from different colors and shapes, thus opening up a lot of possibilities.


Fish Cleaning Stations
Although catching and eating fish can be a lot of fun, cleaning it isn't always. Adding a fish cleaning station will help keep your dock clean and speed up the fish cleaning process.
Luckily, the already built dock-mounting fish cleaning stations also deliver custom features. You can have the station set up 'to order' with additional features — including umbrella holders, drainage options, sinks, a cover, knife holders, and so much more. A Do-It-Yourself fish cleaning station may require a bit of skill in construction.


Boat Lifts
Ensuring your boat is safe from intruders—during the day and night—is a critical consideration for watercraft and dock owners. Although boat lifts have multiple purposes, their fundamental role is preventing boat theft. You can rest easier knowing your boat is safe and secure at all times.
Equally, they offer your boat protection from hull and storm damage. The weather can always get rough, and it's always beneficial to have a contingency plan. Boat lifts are an essential piece of dock accessories that provide security, protection, and ease of access.
---
At Duncan Seawall, we offer personalized services to suit your dock building needs. Contact us today to speak with a member of our expert team about what you can do to your dock.