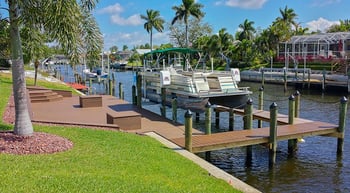 The introduction of pressure treated wood over 40 years ago improved the stability and durability of decks, but didn't eliminate the need for routine deck maintenance. Today, composite decking has revolutionized deck construction and made them virtually maintenance free. Composite decking is the new standard and offers numerous benefits over other decking materials.
Related Blog: Trex Decking at Duncan Seawall for Your Dock Construction Project
Low/No Maintenance
Made of cellulose fiber, plastic and waste wood, composite decks usually only require periodic cleaning. Composite decks withstand the elements and don't require the staining, sealing, sanding, or painting that wooden decks do. With its resistance to bugs, warping and weather, you don't need to replace uneven, damaged or rotting boards.
Safe
While wooden decks can become slippery and have rough, worn areas, composite decks are slip resistant and splinter free, which means you and your family can walk on them in bare feet without worry.
Various Appearance Options
Composite decks come in a variety of color options that can emulate the appearance of exotic hardwood or traditional lumber. There are also accessories available including gates, railing, handrails, post caps and deck lighting that enhance the exterior entertainment area and increase the safety of your nearly maintenance free deck.

Durable
A newly built wooden deck is beautiful, but that beauty doesn't last long as weather changes including wet springs, hot summers and surprisingly cold winter temperatures in Florida wreak havoc. While wooden decks can splinter, warp, and fade, composite decks have consistent durability and reliable warranties.
Improves Home Value
Composite decks add value to your home and your lifestyle with their low maintenance and enduring beauty. In 2012, Remodeling Magazine estimated that homeowners get a 62.8% return on their investment of composite decks. Even if you never sell your home, a composite deck adds value to your lifestyle as you spend every sun filled Florida day relaxing on your deck without having to repair, paint or stain it.

Pays For Itself
Although the initial cost of composite deck installation can be more than traditional wood, composite decks pay for themselves in the long run with their low maintenance and durability. Homeowners can recoup their investment in composite deck materials within 5 years and have a lifetime of outdoor enjoyment whereas pressure treated wood decks can require replacement in under 10 years.
When you're looking for a deck that lasts a lifetime with little maintenance, composite decking is the ideal choice. Contact Duncan Seawall, Dock and Boat Lift and ask about composite deck options.