If you are considering building a private dock on your property, there are many advantages to consider. Let's take a look at seven benefits to help you make the final decision.


Related Blog: What You Need to Know About Dock Building in Florida to Meet Code


Save Time and Trouble
Without a dock on your property, going for a boat ride can be more work than you are looking to invest. For example, if you decide to go for a short cruise in the evening, you would have to go through this process:
Hook up the boat trailer
Transport to a boat ramp
Launch the boat
After your short boat trip is over, the process is reversed, in addition to also cleaning the boat. This could easily turn a 1-hour trip into a 3-hour task, or longer. Since the trip is shorter than the time invested in preparing for it, many would-be boaters just decide to simply stay home. When you own a private boat dock, going for a short boat ride is a simple matter of fueling the boat, loading your cooler, and setting off into the sunset.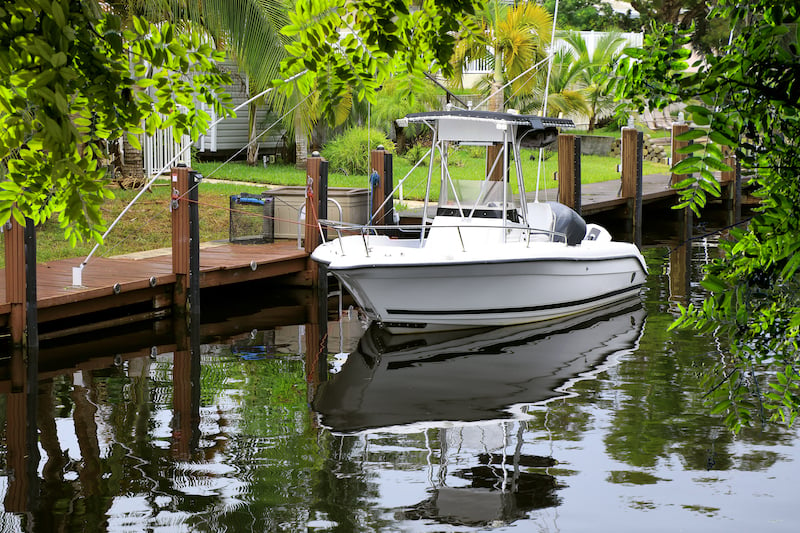 Convenient Access
An excursion with friends is a very simple process when you have your own private dock. Allowing friends and family to park on your property can make the experience more enjoyable for them, keeping everything leading up to the trip familiar and easy. The dock also avoids waiting in line to embark and disembark, providing a safer, more efficient experience for the people you're with.
Increased Property Value
The value of your home is only a portion of the total property value. When you have a private dock, the value of your property goes up even more. In the event you decide to sell the property at a later time, having a dock will attract more buyers who will see the dock as an added bonus.
Dock Type Affects Benefits
When installing your boat dock, keep in mind that the type of dock will affect the property value, as well as its usefulness. There are several types of boat docks available, each with its own set of advantages:
Permanent Docks - This is a low-maintenance type of dock built with pilings driven into the substrate.
Pipe Docks - One of the more affordable and customizable types of docks, pipe docks are ideal for areas with relatively stable water levels such as lakes.
Floating Docks - For deep water locations or places that have regular, tidal fluctuations, floating docks make a big difference in usefulness.
Other factors that impact the benefits of owning a dock include the width of the dock and the materials used in construction. Additionally, matching your dock to the waterway that it's built on creates a longer-lasting, more convenient dock for your needs.
No Storage Fees
When you have a private dock, you eliminate boat storage fees and availability issues. For thousands of people in Southwest Florida, storing a boat in the local marina or dry storage yard adds recurring costs to boat ownership. Over time, these costs can add a tremendous amount to the cost of boat ownership, as well as potentially reduce your boat usage.
Luxurious Entertainment Options
A custom-built dock can include a variety of convenient options. For example, wider docks are more stable and offer more room for guests to gather, and a sheltered dock can be used in all but the most severe weather conditions. Other useful dock options include:
Increased Security
There is a certain amount of ownership security in every private dock. Storing your boat in a marina or dry dock creates the potential for theft and vandalism, for example. To insure even more protection, your dock can be monitored by a private security system, cameras, or by a security firm of your own choosing.
---
Duncan Seawall has been serving Southwest Florida since 1979. We are uniquely qualified for all of your marine construction needs, including our own in-house electrical team. Call or contact us today to find out more about our dock, boat lift, and seawall services.