During the summer months, the brutal Florida sun can cause serious damage to wood and finishes used on docks that are constantly exposed to it. Make sure you do the right things to prevent damage and wear of your dock due to sunlight exposure.
Related Blog: Florida's Summer Humidity and Your Boat Dock


Effects of Sun Exposure On Dock Materials
The Florida sunshine can be nice to enjoy, but it can also have a negative effect on materials used in dock construction. You should know what the signs of sun damage to your dock are.

Sun damage problems can be prevented by having regular maintenance done to your dock by professional services like Duncan Seawalls. We evaluate the condition of your dock and boards to recommend the best solutions to protect dock boards from damage and weathering in the summer sun.


Symptoms of Sun Damage on Your Dock
Problems begin with discoloration of the wood (bleaching effect)
Wood fibers begin to deteriorate, and cracks start
Rot begins as moisture from the dock gets into cracks
Protecting Dock Boards From Sun Damage
The decking boards that are used for docks are usually the same treated materials that are used for the deck on your home. The problem is the marine environment and exposure to direct sunlight can be hard on these materials. Thus, the decking boards of your dock need to be protected from the wear sunlight can cause.

The cleaning and sealing of the dock boards will ensure they are protected from the summer weather. Duncan Seawall can help with the cleaning and sealing of your docks to ensure it is protected from wear throughout the summer.


What Can You Do to Protect Your Dock?
Cleaning to protect the finish from being damaged
Repairing or replacing damaged boards on the dock
Sealing the boards with a protective marine sealant
Using Materials That Are More Resistant to Sun Damage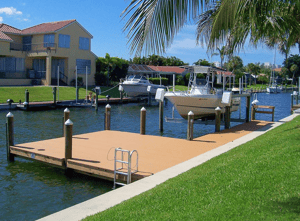 Today, there are also alternatives to the traditional decking materials that are usually used on docks. Thus, you may want to use materials that are more resistant to sun damage if you are replacing the deck of your dock.

The right materials for your dock surface will ensure it lasts and sun exposure doesn't affect it. If your old wood dock deck needs to be replaced, we can help with the installation of more durable materials that are designed to withstand Florida's marine climate.


Sun-Resistant Dock Materials
Decking boards with a special marine treatment
Composite lumber with a UV protective component
Vinyl and metal decking designed to withstand UV radiation and marine environments
Preventative Maintenance to Protect Docks From Sun Damage
Your dock also needs maintenance to protect it from UV deterioration and weathering. Duncan Seawalls can help with maintenance and improvements to your dock that prevents wear and protects it from the summer sun.

The right care will reduce the wear of dock materials to ensure they don't have problems. If you have an older dock with a wood deck, you may want to invest in replacing it with modern materials when you replace the surface.


Common Maintenance/Repairs for Damaged Boards
Seasonal cleaning and sealing of dock surfaces
Replacing decaying decking on older docks
Repairing damaged boards and wood marine structures
Upgrades and improvements with modern marine-grade materials
---
When your docks start to show signs of aging and wear due to exposure to sunlight, Duncan Seawalls can help you. Contact us for all the maintenance, repairs, and upgrades you need to ensure materials on your docks last.