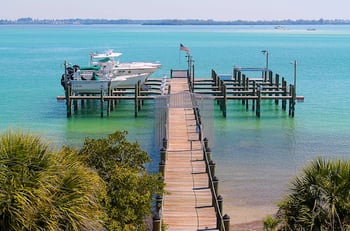 At Duncan Seawall, Dock & Boat Lift, we firmly believe that compliments should only be given when a business truly deserves the kind words of its customers. We are proud of our work, and we're happy to say that many of our customers are, too! Our marine contractor testimonials reinforce our values and help us promote the fact that we're in business to keep our customers happy. Here are just a few of the awesome highlights we've enjoyed reading from the customers who give us their marine contractor testimonials:
Related Blog: Duncan Seawall is the #1 Dealer for Golden Boat Lifts, the #1 Boat Lift Manufacturer in the World

Permitting
As experts in the marine contractor business, we understand the importance of obtaining the proper permits and keeping our customers away from the headaches that can be involved when the permitting process becomes complicated. According to our customer Bob, "We were concerned that our new dock could not be designed to accommodate our three vessels... You provided friendly and efficient professional service throughout the design and permitting process. We felt comfortable with your construction agreement as it was fully detailed and complete."

Seawall Construction
Seawalls serve an important function in terms of safety between the land and the water. When age and the elements begin to take effect on unprotected land, erosion can begin to negatively affect the surrounding property and homes.
The Mount Vernon Condominium Association of Bradenton, Florida was very pleased with our construction of a 350 foot vinyl seawall into a very delicate area where the soil had badly eroded from the bank of the surrounding lake. The association noted, "The Duncan Seawall crew was diligent and professional in their construction of the seawall. The entire seawall was driven into the soil at the water's edge by hand. This hand work minimized the construction damage to the adjacent grassed area and roadway from heavy construction equipment."

Customer Service
We love seeing marine contractor testimonials that showcase our incredible staff. Customer John explained, "Duncan Seawall has done a fine job always being on time or early and always pleasant and eager to begin work. They stay with the job often working late." Steve and Maureen summed up our team nicely by stating, "...it seems to us that everyone from Duncan with whom we have had contact has been so amazingly helpful..."
Want to know what else people are saying? Check out our Duncan Seawall testimonials, and let us know if you'd like to experience our work firsthand!