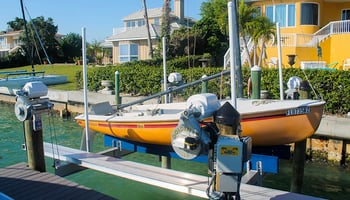 At Duncan Seawall, we're proud to say that people love us here locally, and we're humbled each time we receive accolades from the community at large. When recognition of our work extends beyond the Florida sun, we're truly grateful for the kind words and acknowledgements and hard work that we put into each and every one of our projects.
Related Blog: Boat Lift, Dock, Seawall and Marine Construction Showroom in Sarasota
Golden Boat Lifts are made of incredibly high quality materials, and they're meant to last for many adventures in the water. We believe these incredibly advanced boat lift systems should only be distributed and installed by dealers who value their reputation just as much as those of the products they sell. This means companies that sell Golden Boat Lifts encompass incredible character, quality, and customer service, and we're proud to say those are the competitors that our Duncan Seawall team has beat out for title of number one dealer across the globe for ten years running. We take the needs of our customers very seriously, which means that we use only the finest products on the market to complete each and every one of our projects. We love Golden Boat Lifts because they're as passionate about their brand as we are about our business.
Golden Boat Lifts are backed by a number of reasons that make them a number one manufacturer:

Material:
6061 T6 marine grade aluminum and steel.

Warranties:

• 15 year structural
• Up to 25 year limited warranty on the flat plate drive system
• $1,000,000 product liability coverage.
Motors:
Golden Sea Drive with enclosures made of diecast aluminum.

Aesthetics:
Appealing aesthetics and safer structure as a result of the design whereby the top beams hide the drive pipes within them.

Rust Free:
Stainless steel and aluminum construction of the lift resist rust.

Jetted Pilings:
Likelihood of settling is reduced when pilings are jetted, driven, and installed 10' into the bay bottom.

Sturdy Beam Support:
Plastic is not strong enough to withstand all of the elements around waterfront properties. Solid aluminum extruded bearings with grease fittings are better because they allow for easy maintenance and provide for exceptional strength when welded inside the upper beam. It only makes sense to partner up with the best manufacturers in the marine construction, design, and equipment industries, and Golden Boat Lifts stand out!
Are you interested in learning if a Golden Boat Lift could be a perfect fit for your waterfront property? Contact our team so we can talk about the specifics!