Purchasing a power boat lift represents a substantial investment, so you need to ensure that it has enough power to run efficiently and properly. When you're trying to decide between 220 volt and 110 volt for your boat dock wiring, the deciding factors are the horsepower of your boat lift motor and what other equipment you plan to use to service your boat and maintain your dock.
Related Blog: Golden Boat Lifts: How do "Sea-Drive" and Flat Plate Drive Differ
110 volt vs 220 volt wiring

110 volt wiring and 220 volt wiring perform basically the same task of producing power to operate electrical outlets. An important equation to remember is Power (measured in watts) = voltage x current (measured in amps). When you use 220v wiring, it uses less current than 110v wiring. Most indoor consumer appliances including coffee makers, toaster ovens, lamps, etc. used 110v power, but other larger appliances like ovens and clothes dryers need 220v. For outside use, having 220v power makes sense because you're using more heavy duty items such as boat lifts, power washers or air compressors.
Right power for boat lifts



When your lift motor has a 1 horsepower motor or larger, you need to supply 220v to ensure optimal performance. However, if your boat lift already has 110v, an inspection can show you if it's capable of handling 20 amps @ 110v and if it can't, then you need to upgrade to 220v. Boat lift motors with less than 1 horsepower can run on 110v, but the biggest cause of damaged switches and motors in boat lifts is an inadequate 110v supply.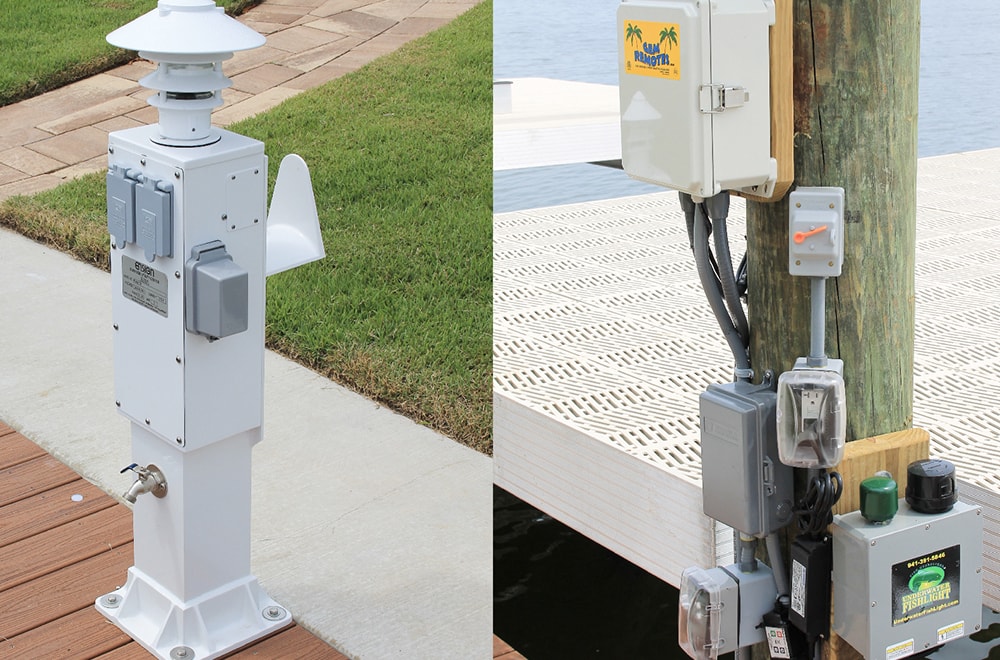 It's also vital that you never run your power lift off an extension cord, no matter if the power is 110v or 220v because this can pose a serious safety hazard. Wiring your boat lift with 220v ensures that you always have enough power for your boating needs.
Safety and efficiency considerations



The main function and purpose of 110v and 220v is the same because they both supply power to an outlet. 220v wiring provides a needed power boost for operating lifts and other dock equipment such as a power washer or air compressor. 220v is also more efficient current wise because it needs less current to provide the same power as 110v, but from a safety standpoint, 220v is riskier than using 110v.
Golden Boat Lifts and Duncan Seawall
---
Ultimately, you need to choose wiring that can properly support the power needs of your boat lift while ensuring performance and safety. Contact Duncan Seawall if you have further questions about different types of boat lifts for the opinion of our expert and fully-licensed electrical team.