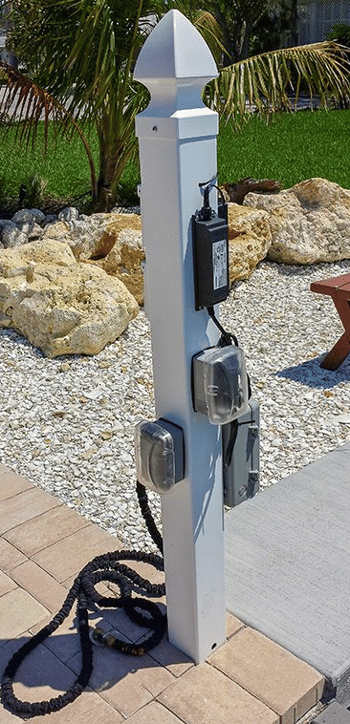 Do I need an electrical permit for my marine electrical project and docking?
Yes. You will need a permit both for the dock itself and the electric wiring in specific. When you work with Duncan Seawall, Dock & Boat Lift, we'll send a team of specialists to survey your property and the water area where the project is destined to be installed. This survey team will include are in house marine electrician who will work with your salesman to take the necessary measurements, draw up a building plan detailing the marine electrical project, complete the required permit application, and then take the information to the appropriate Florida authorities. As soon as the review is finished and we have the necessary permitting, we will begin work on your marine electrical project.
Related Blog: Dock Lighting Projects in Tampa, Sarasota and Venice

At what stage of the construction process will the electrical work be performed?
All of the wiring and electrical components will be added and completed once the rest of the dock's construction is complete. The electrician will be on hand when we install any boat lifts, after which they'll begin work. Both the electrical and plumbing work will be the last stages of your dock's construction process.

Will I be able to run my boat lift on 110v and 220v?
Our in­-house marine electrician will help you determine the best electrical system for your boat lift and wiring desires. Most of the boat lifts we have offer the options of running either 120v or 240v. Although some larger boats will require the more powerful 240v, boat lifts rated for 3,000 to 24,000 pounds often can be wired for 120v/30amp power. Higher than 30,000 pounds and you'll need more power with higher amperage.

Can I add lights to my dock?
Absolutely! We can talk with you about any specific lighting requests you have. Our personal recommendation is to invest in LED lighting solutions. While LEDs tend to be a bit more expensive than traditional bulbs, they are an exceptional choice for marine uses thanks to their durability, longevity, and beauty. All of these things are important for marine electrical projects due to these lights needing to withstand the outdoor elements, often including salt spray and heavy rains. LEDs can last upwards of 30 years (so you will earn those initial costs back) and come in a variety of colors ranging from warm yellows to cool blue shades that are ideal for nighttime task lighting.