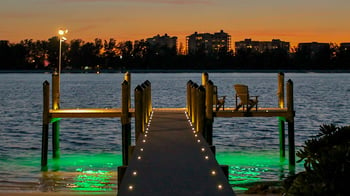 Whether you're applying dock lighting to your property for safety purposes or you're looking for a way to enhance your home's existing beauty, there are many options available for you. Depending on what you're looking for, dock lighting can be as exquisite or simple as you desire.
Related Blog: How Underwater Lighting Can Make Fishing off Your Dock More Fun

Here's a look at some of the dock lighting projects that our Marine Electrical team at Duncan Seawall has had its hands on:

LED Deck Lights
One of the most basic, and often most imperative, features are LED deck lights. These little lights have a big job, helping to illuminate the perimeter of deck features and aiding in the prevention of accidental mishaps that can occur when decks are poorly-lit or not outlined at all. LED lights are efficient and often very attractive when the sun goes down. By day, you likely won't even notice they're there.

Vintage Style Snook Lights
Not all lights are installed for safety. In South Florida, many decks are equipped with lighting which attracts plankton and promotes this plant's healthy growth. In return, baitfish and other small sea critters form communities around the plankton, eventually becoming a great place to catch snook. If you're an angler, this type of deck lighting can increase the odds of catching fish regularly right from your backyard.

Security Lights
You may not be able to be around your boat at all times, so it helps to have a little extra assurance when you're not around. At Duncan, we believe in protecting your investments, and our security lights and faux cameras can be effective in deterring otherwise unsavory behavior.

Underwater Fish Lights
Snook lights aren't the only electrical option used to attract underwater creatures. Several other forms of underwater fish lights are available, which can attract fish for game or just viewing pleasure.

GEM Remote Boxes
GEM remote boxes are an excellent addition to any dock, but if you don't have lighting with these boxes, utilizing your boat lift can be a cumbersome experience. Our GEM remote box lights will make this process much easier with the attractive illumination designed just for your box.

Underneath Dock Lighting
If you're seeking a special aesthetic appeal, underneath dock lighting can provide a soft and subtle accent to the blank canvass of the night.