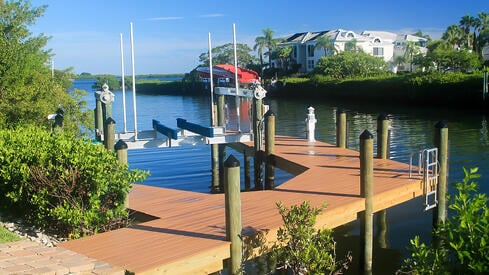 As a waterfront property owner, you want to benefit as much as possible from having such an opportune and desirable location. A new marine dock can provide you with a unique and private spot to store your boat, a place to lay out and relax, and a platform to jump in and enjoy a refreshing dip in the water.
Related Blog: Why We Built a Dock and Boat Lift Marine Construction Design Center

But before you begin construction on your new marine dock, consider these five frequently asked questions we get on Florida docks:

How large can I build a new marine dock and boathouse?
Most municipalities throughout Southwest Florida, including Sarasota County, allow you to build dock constructions up to 1000 square feet. However, some interior counties, such as Winter Park, only allow for 600 square feet without special permitting. Special state and county permits may allow you to build up to 2000 square feet.

How long will my dock last?
Even without maintenance, a professionally installed dock and boathouse will last an average of 15 to 20 years. With routine maintenance, you can add as much as ten extra years to your dock's lifespan.

What is the recommended routine maintenance?
Just like your vehicle, your new marine dock needs both basic cleaning and regular maintenance and care in order to remain in good working condition. Regular maintenance, as noted above, can also significantly extend the dock's lifespan. We recommend an annual pressure washing with a high quality deck wash and a hand inspection of all decking materials. Every five years, re­seal your deck.

How long will construction take on my new dock?
There are two phases in the building process. The first of which is between the time you sign a contract on a dock design to when permitting is granted. This period is a minimum of 4 to 6 weeks. The second phase, the actual construction, can take anywhere between a week to three weeks depending on the dock's square footage and the specifics of boathouse and boat lift designs.

Can I have a boat lift installed at the same time?
Of course! In addition to your new marine dock, you can also opt to have jet ski lifts, boat lifts, lighting, and other docking accessories added at the time of construction.

For more information on building a dock and boathouse on your waterfront property, contact us today at Duncan, Seawall, Dock & Boat Lift, your local Sarasota marine construction professionals.