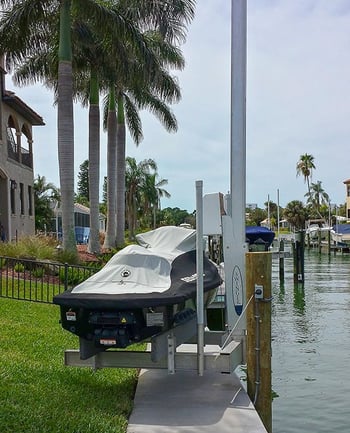 Your personal watercraft (PWC) is a fun-­filled investment that's meant to provide years of enjoyment. Of course, the longevity of your PWC is partially determined by the kind of care you give to it when it's not in the water.
Related Blog: Golden Boat Lifts: 10 Boat Lift Accessories You Should Know About
PWC lifts impart a certain ease when it comes to caring for your small vessel, jet ski, or kayak, but it's important to know that not all PWC lifts are created equal. Here are some facts we wanted to share with you:
PWC Lift Warranty
Protection is a big deal when you are dealing with pricey investments. The people at Golden Boat Lift understand this, which is why they offer a 5 year structural warranty on all swivel and stationary lifts. These lifts also come complete with a 1 year bumper-­to-bumper warranty, too.
Lift Capacities Matter
It is important to be mindful of weight capacities. Applicable weight accommodations include 1,500 and 3,000 pound PWC lifts. Be mindful of the capacity of the Golden boat lifts you've chosen for your property, and you should be in good shape.
The 1,500 pound PWC lift is great for watercraft vessels up to 6' wide. This is a great option for boat lifts.
The 3,000 pound Double Track unit is optimally designed for larger crafts, and it can easily be converted tsingle crafto accommodate two personal watercraft's. The Golden Sea­Drive and stainless motors finish the awesome power of this option.
Materials are Important
The last thing you want to do is invest a ton of money in a device that will fail a year or two from now. PWC lifts from Golden Boat Lifts are built with 6061­T6 marine grade aluminum, which will help your PWC lift sustain the elements and seawater native to our region. Stainless steel hardware and cables will complete the package, helping to ensure the longevity of your PWC lift.
Experience is Essential
If you sign with an inexperienced marine contractor, you can't be sure what you will get. Be sure to ask for references, and seek samples that exemplify your potential company's work, particularly with regard to PWC boat lifts.
PWC boat lifts from Golden Boat Lifts are made with the highest quality standards in mind, and we're proud to say that our team at Duncan Seawall is expertly trained on the installation, maintenance, and repair of these devices. Ready to learn more? Contact us today to find out how a Golden Lift can make your life easier!