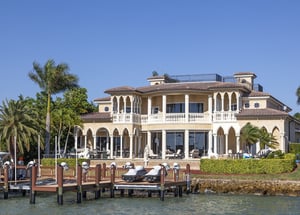 Anytime you're dealing with water and electric, professionals need to be involved. Whether it's installing boat lifts, docks, lighting, or other waterfront electrical accessories, having an experienced contractor is crucial.
Duncan Seawall's Included Electrical Services
Most marine contractors suggest that their customers find and hire their own separate contractor to install waterfront electricals. This leads to two main problems. The customer often hires inexperienced contractors, plus they're faced with the extra stress of having to search for someone to finish the job. This is where Duncan Seawall sets itself apart from the rest.
Duncan Seawall is the only marine contractor in Southwest Florida that offers an answer to this obvious problem. We created a total turn-key solution by adding our own Electrical Services Division within our company. Our electrical services ensure our customers receive top-notch service to complete the entire project seamlessly and safely all in one quick swoop. Leaving you with more time to enjoy life.
Related Blog: How to Know if it's Time to Replace Your Steel Seawall
Dock Lighting
When it comes to docks, safety is key. Maintaining a well-lit dock will keep the area safe while you or your loved ones are enjoying time near the water early in the morning or late at night.
Solar Dock Lights - Solar lights are great because they don't require much upkeep. They fully charge by soaking up the sun all day and then turn on automatically as soon as dusk hits. They last all night and you don't have to remember to turn them on and off.
Underwater Fish Lights - Have you ever seen a dock with lights underneath? It's a breathtaking sight. Lights illuminate underneath the water and all around it. As you ride your boat in from a long day, you'll see relaxing lights guiding you to your dock. Plus, night fishing will be safer and better than ever before.
LED Deck Lights - LED deck lights are a high-tech and eco-friendly way to light up your deck. Available in many styles and colors.
LED Piling Lights - Piling lights sit on top of posts to provide guided light and added safety. They are long lasting and all of the electrical components are safely underneath the cap.
Vintage Style Snook Lights - In Southwest Florida, it's very common to place lighting along decks which attract plankton and promotes this plants healthy growth. By doing this, baitfish and other small sea critters begin to migrate and live surrounding the plankton, which makes it a terrific spot to catch snook. Vintage snook lights are a great deck light to use if you're looking to catch a lot of fish on a regular basis, right in your own backyard!
Duncan Seawall's professionals can help you choose the perfect lighting system to fit your dock and preferences. We provide custom dock lighting to get you exactly what you want.
Boat Lifts
After you've picked out your new Golden Boat Lift, it will need to be installed correctly in order to operate. From wiring requirements, drum switches, and electrical boxes, this type of electrical work can quickly become dangerous. We use GEM remote boxes, providing you with the best in wireless boat lift control systems. Leave it up to the experts at Duncan to complete your electrical boat lift.
Security
Enhance and secure your waterfront property.
Installing motion activated security lights gives you added peace of mind while you're away from your dock and boat. Another great addition to your dock is to install faux security cameras, which will defer any strangers or burglars. Duncan Seawall believes in protecting your beloved investments.
Accessories & Add-Ons
LED deck lights
LED piling lights
Vintage style snook lights
Underneath dock lighting
Underwater fish lights
Security lights
Security faux cameras
Solar kits
GEM remote boxes
Drum switches
Plus many more
Your waterfront property should not only look fabulous but perform safely too. Leave marine electrical installation up to the professionals at Duncan Seawall. Contact us today with any questions or to schedule a consultation.