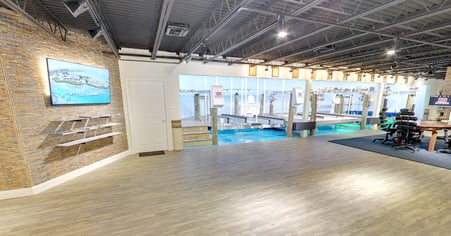 When you're undertaking a major marine construction project, one of the biggest points in the project is the design itself. You may have an idea in mind that you need help getting down on paper, or maybe you really have no idea what you're looking for and need a little assistance bringing your imagination to the forefront of the discussions. In either case, our marine construction showroom in Sarasota is the perfect place to begin planning your dock, seawall, or marine construction project.
Related Blog: How to Choose the Best Materials for Your Dock Project in Venice, FL
As you meander from demo to demo, you'll start to gain a better understanding of the styles and designs that appeal to you the most, and you'll be able to see what may or may not work well for your specific situation. Our experienced staff will be on hand to walk you through the basics of the design process so we can get a feel for what you're looking for and guide you toward your optimal design options. Armed with our in house marine construction showroom in Sarasota and a fantastic portfolio of completed and feature projects, you'll start to get a better picture of what your final product could look like. In the showroom, you'll have the ability to get up close and personal with various aspects of our business.
Materials

If you've ever experienced the frustration that can occur when colors online don't look like they do in person, you'll appreciate our wall of samples. You can touch and feel the product samples and see what the colors look like in real life.
Docks

The perimeter of our showroom mimics a dock. It's a great place to come for a little inspiration. If this were your dock, what would you change? What would you keep? Walk along the wood and begin to gather thoughts about your own project then take a look at our dock gallery to see how your ideas can find their way alongside the water.


Boat Lifts

With a real touch and feel, you can see how one boat lift might be better than another for your personal needs. From jet skis to large watercrafts, we'll show you how our in house examples work, and we'll show you some of our completed boat lift projects to add to your inspiration. Take a virtual tour of our marine construction showroom in Sarasota, and stop by and see our Duncan Seawall team when you're ready to talk!