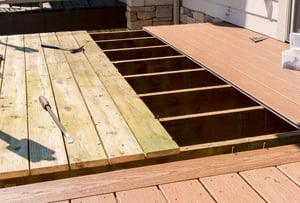 A quality, well-constructed deck or dock is an investment that can be functional as well as beautiful. Whether it's entertaining friends, an afternoon cookout for family, or a relaxing spot to sit and enjoy the fresh air, a well-designed deck will provide years of use and enjoyment. Traditionally, wood has been the decking material of choice, but technology and advancements in construction materials have created options. High-quality composite decking material is durable, requires minimal maintenance, and has the same aesthetic appeal as wood.
Related Blog: The Perks of Composite Decking
Composite decking material is composed of mainly plastic, wood, and a binding agent, processed into a material consistent with the appearance of wood. Weather and stain resistant, composite decking will not warp or splinter and is resistant to rot and mildew. Unlike wood, composite decking never needs sanding, staining or refinishing and only requires an occasional washing to keep it looking new.
The latest generation of high-performance composite deck boards is available in a wide range of colors that are scratch and fade resistant and textured to provide a safe, non-slip surface. Traditional wood decking requires constant vigilance against a loose screw or a nail that pops up creating a wobbly board and possible tripping hazard. Composite decking is fastened using a hidden fastener system, eliminating the need for frequent inspection and maintenance to prevent loosening and safety hazards.
Even though options such as color and pattern were limited, the durability and low maintenance of composite decking caused it to gain in popularity in the 1990's. Today's product is more durable than ever and comes in nearly every color and texture of wood imaginable. Azek and Trex are the leading manufacturers of high-performance composite decking in the world, each offering a quality product with unique qualities.
Azek Building Products
Azek Building Products manufactures composite decking that comes in a wide variety of colors and looks, from traditional and rustic, to sleek and modern. The versatility and durability of Azek flooring even provide the option of having outdoor decking that mimics the look of indoor flooring. Azek offers a look that will complement any home or surrounding.
Azek decking material is manufactured from inorganic polymers and capped or sealed with an exclusive PVC product that contributes to its durability. The PVC cap encases the plank making it impenetrable to moisture and rot and providing stain and fade resistance. Azek decking offers excellent heat dissipation, keeping it cool to the touch, and its cellular PVC polymer core makes it suitable for applications near and around water.
The exposure to harsh environmental conditions and dirt can make any outdoor deck look weathered and old. Low-maintenance Azek decking easily cleans up with soap and water or an all-purpose cleaner using a stiff brush, no need to ever sand or stain. Any outdoor surface, natural or man-made, is prone to show some weathering but Azek protects your investment with a 30-year Fade & Stain warranty.
Trex Decking
Trex has been manufacturing composite decking material since 1996. 95% of the material used to produce Trex products is recycled materials, recycled wood, sawdust, and plastic film, making it an environmentally friendly product. Trex decking has a positive effect on the environment because every 20 feet of decking material eliminates nearly 30 pounds of landfill waste. The company is the first and largest composite manufacturer and recycles approximately 6 million tons of plastic every year in its products.
The latest generation of Trex decking has a high-performance shell that envelops the composite board at the core. This outer shell provides superior resistance to fading, staining, scratching, and makes the product easy to clean. Trex offers over a dozen colors in its palette as well as realistic deep, natural wood grain textures. Trex decking comes with a 25-year limited warranty against defects in workmanship and materials, as well as a 25-year limited warranty against stains and fading.
A beautiful deck is an investment that will give years of pleasure and enjoyment. Today's high-quality decking options provide an alternative to traditional wood decking that is aesthetically pleasing, long lasting, and economical due to its low maintenance and limited upkeep.
To learn more about this or anything else contact us today.