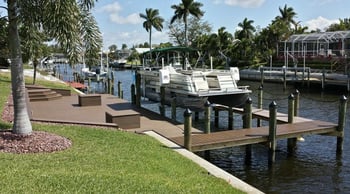 A funny thing happened to us recently here at Duncan Seawall. Someone, wanting to know more about our business, asked us what is different about Duncan Seawall and what factors have contributed to us being Florida's largest Residential Marine Contractor since 1979. When you have been doing something well for a long time, sometimes you begin to take for granted the things that contribute to your great reputation because they are so obviously the correct way of running things that we just couldn't imagine operating any other way. At first, the question gave us pause for thought because, as I mentioned, we do what we do naturally and automatically, and delivering great service is both part of our culture as well as our work ethic. Thankfully, the more that we considered the question, the easier it became to verbalize the reasons why we have both lasted this long and why our customers continue to use us for repeat business.
Related Blog: Why Work With Duncan Seawall to Install Your New Seawall?



When asked what do you offer that other marine contractors do not, it is almost standard for anyone to answer "we have better customer service." But ask for specific details and most folks can't get past "we treat people nicely and make them happy." What does that mean? At Duncan Seawall, we pride ourselves in delivering consistently high quality of both service and product because our name is tied to both, so we can actually tell you, specifically, what "great service" means to us.
To begin with, at Duncan Seawall we have a state-of-the-art Design Center where you get a touch-and-feel experience of our products. Our prospective clients don't have to guess at how the inner-workings of a Golden Boat Lift operate – they can touch and see these differences – and they can see numerous decking materials and the different carpentry finishes for their dock. Furthermore, better customer service means that our customers get a proposal back from us within days. Many customers are still waiting for other marine contractors to return their initial, second or third phone calls by the time that they have already received a proposal from Duncan Seawall! Furthermore, many of our proposals are done with software utilizing aerial imagery and often include aerial shots and 3d renderings, depending of course on the size of the project, but even smaller ventures will always result in a professionally prepared and comprehensive site plan. We have seen some of our competitors' proposals and we just don't believe our customers deserve sloppy, nebulous, or hand-drawn site plans. We believe that our clients deserve a clear vision and understanding of their waterfront construction.
Unlike most of our competitors, at Duncan Seawall we use a CRM (Customer Relationship Management) software to track a customer's sales process from initial call through permitting and final construction. Anyone who answers the phone at Duncan Seawall can provide customer information with the click of a button, unlike many contractors who have piles of disorganized hand-written notes in someone's truck or briefcase! Once clients hire us, we go above and beyond. This is not just a cliche for us and If that means that our employee Tom needs to bring his own boat out to your property to get a better idea of how far out we need to build your dock, then we'll do that. Customers don't deserve for someone to eyeball their project from dry land with subsequent change orders to extend their docks after construction begins! We have heard from customers that other contractors don't even get very near the water to get accurate measurements for docks, which has made us scratch our heads with confusion.
Unfortunately, Florida contractors have a reputation for being unreliable and for taking too long to finish a job. At Duncan Seawall, we start and finish jobs consistently, focusing on your project fully until it is completed. Our workers don't just work four hours one day only to get pulled away to another "high-priority" job. Customers also have the satisfaction of one-stop shopping with Duncan Seawall as we have an in-house electrician with the correct marine construction insurances and skills to work over water, making your project a seamless pleasure!
Unlike our competitors, we have few problems when obtaining permits because we know what can be permitted and not and what's more, one of our sales managers worked for ten years with Florida's DEP (Department of Environmental Protection) and he is an expert in the ins and outs of permits. Our construction work reflects very positively on the marine construction industry while many projects done by others do not reflect well on us as part of the industry. Finally, our customers know that they can call us at any time and talk with real people and what's more, they know that we go above and beyond to keep our customers happy, even after we have finalized the transaction.