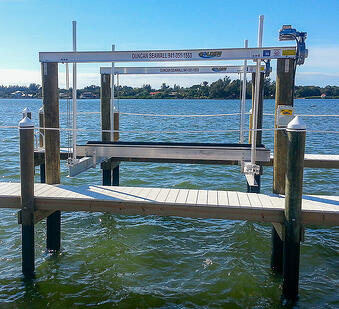 When you are ready to install a new boat lift one of the main questions you may have is should it be a four post or an eight post lift. The two types of lifts are similar in that they both can be built at a private or a commercial dock and are constructed of the same materials. The one thing that sets them apart is their capacity requirements.
Related Blog: 6 Common Questions Answered About Your New Boat Lift
The weight of your boat, or the boat you wish to lift out of the water needs to follow these restrictions:
If the boat is 4,500 pounds to 28,000 pounds then a four post lift is ideal.

If the boat is 32,000 pounds to 250,000 pounds an eight post lift is recommended.
With a four post boat lift, two heavy duty stainless steel motors and aluminum beam are placed atop two wooden posts that have been set into the ground. Your boat slides in between the two sets of posts connected with a beam and your boat is then lifted out of the water with a carpeted wood bunk that has been strategically aligned with two heavy duty aluminum beams.
An eight post boat lift performs the same way, however two posts are placed close together and support four separate heavy duty stainless steel motors. As with the four post, the eight post has the same carpeted covered wood bunk below supported by two aluminum beams.
Both four and eight post lifts have hidden drive pipes for aesthetics, and because they use aluminum and stainless steel there will be no signs of rust.
There are numerous advantages to having a boat lift on your dock:
Reduces deterioration of the boat's exterior

Reduces barnacles and algae or other marine life on your boat

Protects your boat from debris

Makes damage inspection easier

Makes maintenance easier
Along with all of these reasons you will find that, with a boat lift you spend less time prepping and maintain and more time on the water. There is no need to wait at the closest boat ramp to bring your boat out of the water, you simply drive up to your dock and take it out with the lift. Once it is out you can winterize it where it is.
A boat lift installed by Duncan has a 15 to 25 year warranty and is installed by marine contractor professionals.