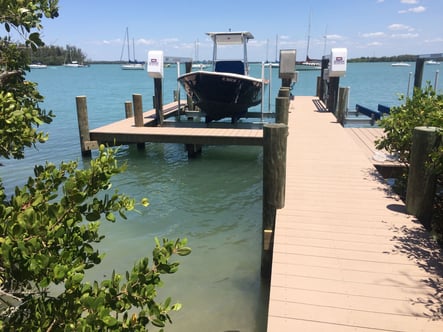 Investing in boat docks and decking that look good and preserve the integrity of your waterfront home will increase your property value; as long as you take care of it properly. Materials for decks are now available in a variety of colors and composites. But which is the best? Which one is the best for your home? Sometimes the initial cost is justified by the sustainability and low maintenance offered by different deck types.

Related Blog: Golden Boat Lifts: Top 10 Maintenance Tips
Pressure-Treated Wood
This is a favorite because it costs less up front. Other woods, like cedar and redwood, require regular cleaning, sealing, and should be re-stained every 2-3 years.
Tropical Hardwood
This wood is almost breathtaking in beauty and can also be more expensive. Regular cleaning/finishing, and re-staining or re-oiling every 2 years is recommended.
Composite Decking
Your options increase every year with composite decking. It has the look of wood with the maintenance and stain-resistance of plastic, plus it readily stands up to Florida's extreme weather. Composite decking should be cleaned every 2 years.
Recycled Plastic Lumber
Plastic that has been recycled is a sustainable choice and it's a low-maintenance option; cleaning is recommended every 1-2 years.
Sustainable, Low-Maintenance Deck Material
Today's property owners want their decks to look good and offer sustainability. At Duncan Seawall, Dock & Boat Lift we are knowledgeable and experienced in every area of private and commercial dock and deck construction. We know which deck materials offer the best quality and maintenance for your specific project.
That's why we often recommend Trex® decking. With a 25-year guarantee, it's the best choice for responsible boaters who want to spend more time on the water than maintaining their decks. It's made of 95% recycled wood, sawdust, and plastic and offers a wide variety of beautiful colors that can enhance your exterior or become a focal point for your waterfront property.
Call 941-351-1553 or contact us now for more information, because now is the time to begin planning your deck and dock project!