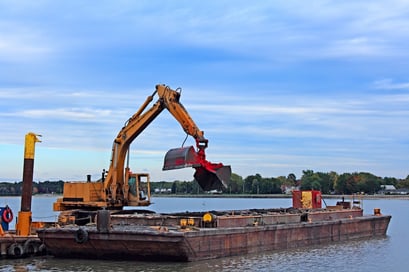 Dredging projects require a great deal of planning and knowledge of the process involved. To avoid complications and potentially large fines, it is important to use a qualified dredging company that knows how to design, permit, and perform the work.
Related Blog:4 Reasons Seawalls Fail and How to Prevent It
Here are the steps involved in a successful dredging project:
1. Consultation
The first step is to meet with a qualified marine contractor who can determine and explain the full scope of the project and assist you from planning to completion. As the job progresses, your marine contractor will be there every step of the way to answer any questions that may arise and to handle any problem solving that may be required should any obstacles surface along the way.
2. Planning & Permitting
Dredging requires in-depth planning, including calculating the size of the area to be affected, drafting plans to establish what work will be done and more. The initial consultation, normally an RFP, is the first step in the planning process, but a lot more work is required before permits can be secured. A capable marine contractor will have a large enough staff to handle all permitting for your project on your behalf. As industry experts, they are well versed in which permits are necessary for each project and understand the proper channels to take to secure these permits. Navigable waterways require permitting from multiple agencies, including local jurisdictions as well as state and federal agencies. Marine contractors have the knowledge to handle the permitting process for your commercial project, and the experience to get permits secured.
3. Dredging
Some dredging projects can be completed with land-based track hoes, but other jobs require marine-based equipment. We have a full range of equipment available to get your project done in a timely and efficient manner. Dredging requirements vary based on the size and type of the job. We are equipped for any size of job, land or marine based, from removing silt to dredging slips and canals. We provide the most effective tools and services to accomplish any dredging task and the related cleanup, including:
Land and barge-mounted track hoes with short, mid, or long reaches
Mechanical clamshells and draglines
Hydraulic dredging equipment and pumps appropriate to the job size
Environmental protection equipment
Hauling equipment
4. Disposal
Beware of companies that omit the disposal process from their proposal, leaving you with mountains of debris to be removed at an additional cost. The last thing you want after the completion of a large dredging process is an added surprise. Choose to work with a marine contractor in Southwest Florida who is clear what the steps will be during all stages of the project, from start to finish.
Duncan Marine is your single source for marine docks, seawalls, dredging, and more in Southwest Florida. From small residential jobs to major commercial projects, we service a wide range of marine construction needs, and give every customer the same dedication and service. To find out more about our commercial dredging projects and services, please contact us today.