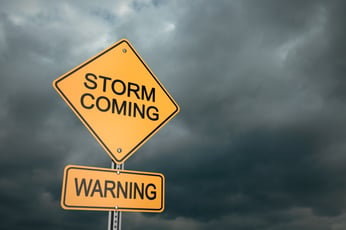 Living on a waterfront property means that you're very aware of the effect of rough seas and turbulent weather on your shoreline, dock or seawall. Knowing the tropical storm and hurricane predictions for 2016 gives you a glimpse into the future and helps you prepare your property against erosion and damage.

Related Blog: How to Prepare Your Florida Waterfront Home for Hurricanes and Severe Weather
Near-normal year
According to a May 2016 article on NOAA (National Oceanic and Atmospheric Administration), this year should have a near-normal Atlantic hurricane season. NOAA states that there is a 70% chance of having 10 to 16 named storms this hurricane season, from June 1 through November 30. However, as with any weather prediction, these tropical storm and hurricane predictions suffer the influence of climate signals that bring uncertainty in the possibility of storm formations.
Atlantic Ocean predictions
For a storm to receive a name it has to have winds 39 mph or above. Of the 10 to 16 named storms predicted for the Atlantic, 4 to 8 may become hurricanes if they reach winds of 74 mph or above. It's also possible that there will be 1 to 4 major hurricanes in the 3-5 Category with winds reaching 111 mph and above. According to NOAA, there's a 45% chance of near normal Atlantic hurricane season, 30% chance of above normal and 25% of below normal.
Pacific Ocean predictions
Tropical storm and hurricane predictions from NOAA for the Pacific Ocean call for 40% chance of both a near normal or above normal season with the possibility of 4 to 7 tropical cyclones. There's a 30% chance of an above normal and below normal storm season with 70% chance of 13 to 20 named storms, 6 to 11 of which may become hurricanes. Understanding the predictions for Pacific Ocean storms is just as important as understanding Atlantic Ocean storm probabilities because tropical cyclones and hurricanes can assault Florida from either direction and are highly unpredictable.
Preparing your property
Although tropical storm and hurricane prediction vary every year, a single storm can disrupt your life and cause damage to your waterfront property. With more storms predicted this year than have been seen in the previous three years, it's the ideal time to have your boat dock, seawall and shoreline inspection for signs of damage or erosion.