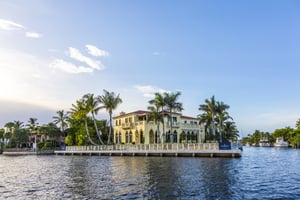 All along the endless shorelines of America, relentless crashing waves are kept at bay by carefully-engineered seawalls that prevent land erosion and the destruction of personal property. The rise and fall of the tide and the beatings of storm debris could cause severe damage were it not for the strong defense of solid protective walls. In the past, these seawalls were mainly composed of concrete. Later years brought along the usage of steel due to the fact that it is sturdy and the wall construction fairly simple, but the rate of deterioration is problematic; steel corrodes much faster than concrete.
Related Blog: Vinyl Seawall Panels: When and Where To Use Them
Enter Vinyl Seawalls
Modern engineers have begun the incorporation of plastics into the seawall industry, and the market has exploded. Many shoreline property owners are now turning to vinyl seawall products, being promised an attractive and reliable result with low-cost investments and low-cost maintenance for 50 years or more. Regardless of the claims from vinyl seawall manufacturers, this trend has stationed innumerable people in a very vulnerable position. It has not yet been possible to observe the long term results of using PVC for high-pressure functions such as holding back hundreds of tons of rock and soil on one side, and enduring frequent (if not constant) abuse on the other.
Several years ago, the U.S. Army Corps of Engineers released A Study of the Long-term Applications of Vinyl Sheet Piles, an extensive article written by Piyush K. Dutta from the U.S. Army Corps of Engineers Research and Development Center in Hanover, NH, and Uday Vaidya from the Department of Materials Science University of Alabama in Birmingham, AL. In the article they lay out the results of various studies on the reliability of seawalls composed of PVC materials. While many short-term studies resulted in the approval of vinyl panels, it is acknowledged that levels of high pressure over long periods of time will inevitably cause deformation to occur; the extent of the deformation and degradation is unknown and must be taken into consideration.
Studies have been conducted on PVC material samples that are exposed to the elements for one year, two years, and even five years in every climate type found in the United States. The exposed samples showed slight erosion and discoloration, although the most concerning result was the increasing brittleness of the exposed PVC; this combined with the potential deformation, and the possibility of impact from foreign objects creates a hazardous potentiality of fractures, and presents a real threat to the safety and integrity of personal property and even the safety of anyone nearby.
Why Concrete Seawalls?
Duncan Seawall excels in the fabrication of concrete pre-cast seawalls in the Southwestern region of Florida, and knows that the importance of protecting your investments is far more important than saving a few dollars on an inferior seawall. Concrete has been a proven building material for more than a century, and has maintained a reputation for strength, stability, and versatility. Duncan Seawall's engineers construct the 8" thick panels with premium 5,000 P.S.I. concrete and reinforce them thoroughly with steel rebar. The panels are sufficiently cured before being transported to the client's waterfront location. Galvanized tieback rods connected to additional concrete bases buried deep in the soil. The wall is then finished with an attractive concrete cap that will add value to your property for generations.
Duncan Seawall, Dock & Boat Lift has been serving Southwest Florida since 1979. We pride ourselves on getting the job done right, on time, and on budget.Contact Duncan Seawall today, and let us answer any questions you have about a building a new seawall; we would be glad to help you out!