Sailing in the clear blue waters of Southwest Florida with friends or family is one of the most fulfilling ways to spend a vacation. The slow tides, sunsets, and vast water horizons make the experience magical and worthwhile. While preparing for sailing, you want to ensure that you pack every essential thing because the last thing you want is to get stranded in the middle of the sea. If you are sailing for the first time or do not know the essential things to pack for your trip, read on to get sailing tips and learn about things to never sail without.
Related Blog: 7 Practical Boating Tips for Beginners
Safety Equipment
Sailing might pose some dangers, and you want to make sure you are thoroughly prepared by having safety equipment. The first essential thing to have is a life raft. A life raft is the safest way to escape from a sailboat in an emergency. A waterproof grab bag with interior pockets to store safety items is also essential. The safety items to keep in a life raft include flashlights, survival gear, medical kits, EPIRB, vessel signaling, and more.

It would also be best to have a handheld VHF radio or an Emergency Position Indicating Radio Beacon (EPIRB) for quick response in case of an emergency, and an emergency water marker to produce fresh water to keep you hydrated for some days. Most of these items are usually available on a sailing boat, but it would not hurt to carry personal ones for more caution.


Proper Clothing
While packing, please don't get too excited about the sunshine and forget it gets chilly and cold at night. As such, you should carry the proper clothing for daytime and nighttime. The basics include pajamas and your inner clothes. Your favorite bikinis, swim shorts, light sundresses, khaki shorts, sunhats, and sunglasses will keep you vibrant and cool during the day. During the night, though, you might need to wear a sweater, a raincoat, a windbreaker, and some gloves to keep the chilliness at bay. A must-have at all times is an inflatable life jacket and safety harness and tethers, especially if you are not a good swimmer. You will also need deck shoes that offer a firm grip on the deck to prevent you from skidding and falling.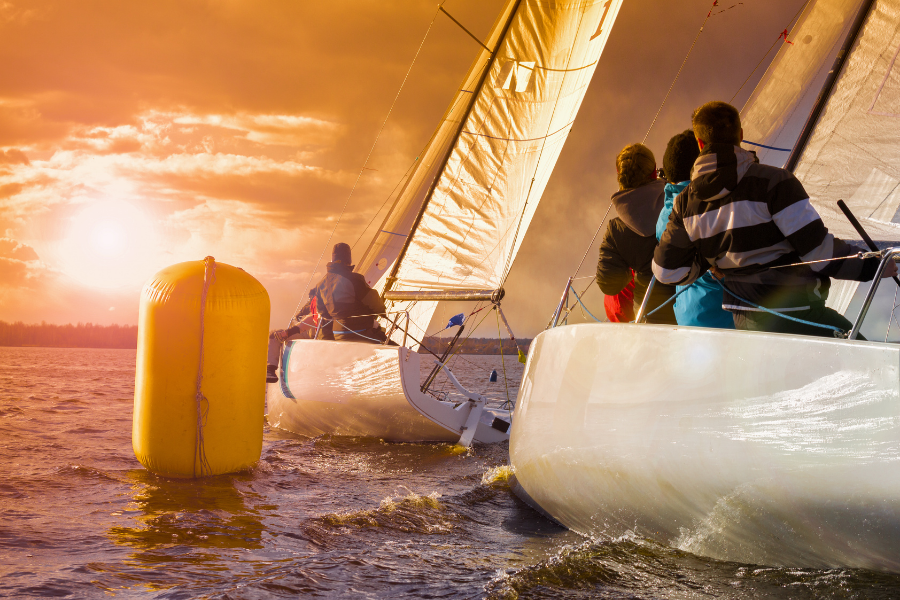 Health Care Items
If you are prone to sea or motion sickness, health care items are a must-have. Some tablets such as Cyclizine and Scopolamine patches can help you manage seasickness. It would help if you also considered carrying some aspirin, first aid kit, allergy medicines, bandages, tweezers, and other health care items to keep you safe on board.

Additionally, pack some sunscreen to keep the sunburns away.


Sailing Related Items
Sailing is never complete without snookering, so you should never sail without your snookering items. The wetsuit, snookering mask, swim cap, and float vest should be the first things to pack.


Electronics
Most sailing boats do not have plenty of charging ports, so if you intend to be using your phone or other electronic devices frequently, it would be advisable to carry a power bank and charging cables. Your power bank will help you power your phone and camera to take good shots of your sailing experience.


Take Your Sailing Experience to the Next Level
Are you looking for a marine construction company to help with boat lifts, boat lighting or enhance your Florida boating lifestyle? Duncan Seawall is your solution. We provide quality artistry, excellent service, and dedication to customers, making us the largest and most respected marine company in Florida. Contact us today to take your sailing experience to the next level.