If you've been following our series of blogs on how issues with your seawall may affect selling your home, you've seen many things that can cause your seawall to fail. Your seawall is a large factor when it comes to selling your home, and if it is not in good condition it can significantly lower the price you're offered for your home or deter buyers from putting in an offer completely.
Related Blog: Failing Seawalls Continued: How They Can Impact Selling Your Home
Here are a few more problems you may see with your seawall and what you should do to fix them.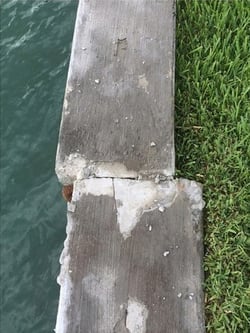 The sheering of the cap indicates significant wall movement. Depending on the amount of movement, either a new cap and tieback system or a new wall replacement will be recommended.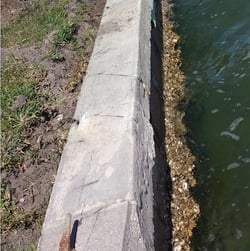 Significant cracking in the seawall cap as well as buckling in the seawall panes indicates seawall replacement is necessary.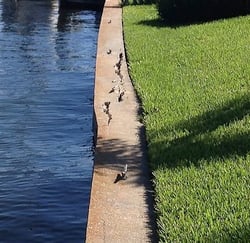 Significant cracking and bowing of the seawall and seawall cap indicate major shifting of the seawall. Complete seawall replacement is necessary.
If you'd like a free inspection of your seawall, contact us today and we would be happy to send someone to your home.