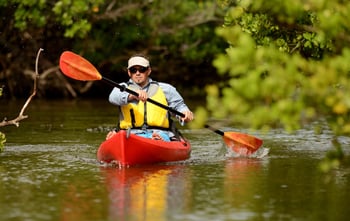 Kayaking is one of the best ways to discover southwest Florida's natural beauty and wildlife. It's an ideal way to experience the outdoors up close, whether you'd like to fish, take photos, or simply enjoy nature while getting some exercise.
Contact Duncan Seawall today for more information or to have Kayak Launch a installed.
Related Blog: How Underwater Lighting Can Make Fishing off Your Dock More Fun
Where to go:

The Great Calusa Blueway Paddling Trail
This 90­ mile marked trail 1 includes the open water of the Gulf of Mexico as well as bays and creeks. You'll get the chance to see birds and other wildlife, and dolphins and manatees are often frequently spotted.
Caspersen Trail
The Caspersen Trail loops through Caspersen Beach Park, with two creeks to explore. Mangrove Loop on the bay side of the park is a protected mangrove habitat that's a great place to birdwatch or fish.
Lemon Bay Trail
This trail starts at Manasota Beach, going south for over 20 miles. It's perfect for novice to intermediate kayakers, and you'll pass a bait shop if you need to stock up.
Tips for a good trip:
Know the conditions
It's important to know the weather forecast, as well as the tides and winds that can affect your kayaking trip. Changing tides can make your trip much more difficult than anticipated. Take a personal flotation device Florida law requires a personal flotation device with an attached whistle for each kayaker.
Dress appropriately
Wear a hat and sunglasses if it's a sunny day, and if possible, dress in synthetic fabrics such as Lycra. Cotton can feel heavy when it gets wet and generally takes longer to dry.
Be prepared
Take a cell phone even though reception may be spotty. For day trips, bring a half­ gallon of water per person, and bring a gallon per person per day for overnight trips. Food should be stored in watertight containers. Let someone know where you're going If you're kayaking alone, tell someone exactly where you'll be going and let them know when you plan to be back. If you run into unexpected trouble, they'll be able to summon help if needed.
Use a kayak launch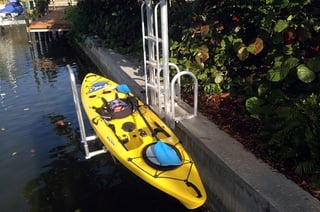 Make starting your trip easy with a Golden Boat Lift Kayak Launch. It's ideal for dock and seawall launching, with all welded aluminum construction and stainless steel cables.