When it comes to marine properties, it is crucial to hire a trusted marine contractor to make sure you get quality results. Careful selection of a qualified, reputable, and experienced marine contractor will determine the entire project's success. Besides, it is important to choose a contractor with adequate expertise on the type of project you intend to establish.
Preliminary research provides great insights into ensuring your marine structure is well-built and meets set standards. However, most people find it hard to choose the right marine contractor to facilitate the construction of marine structures and control shoreline erosion. Read on to find out.


Factors to Consider When Choosing a Marine Contractor
Whether it is enhancing a commercial boat lift or repairing a damaged boardwalk, choosing a qualified marine contractor for your marine construction project is critical. Here are 4 key factors to consider when selecting a marine contractor.


Experience and Stability
Experience is a critical aspect when looking for a marine contractor. Always consider marine construction companies with experienced personnel and also stable. First, professional contractors guarantee that they will meet their commitments.

Again, these contractors have completed similar projects before; therefore, they offer quality services. If the company has high retention for top talent, it insinuates qualified marine contractors suited to your project.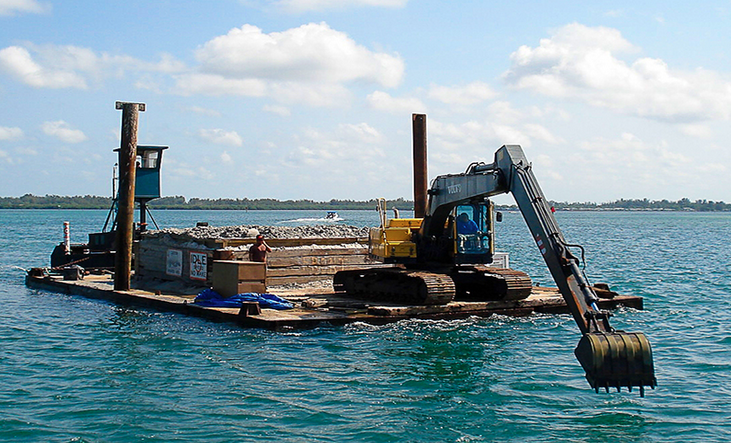 Area of Specialization
Marine contractors may specialize in either coastal or freshwater construction solutions. Furthermore, most inland and general contractors have limited expertise than marine contractors.

Technically trained and experienced marine contractors oversee essential structures such as boat lifts, bulkheads, and more. Contractors who build on land are pretty unaccustomed to practices involved in marine constructions. Therefore, you need to choose a contractor specializing in marine construction to get better results.


Private Vs. Public Marine Contractors
You should also consider whether the marine contractor is private or owned by the public. Public maritime construction companies are often owned by various investment groups, pressured to complete projects on short-term costs.

Private companies can make decisions promptly and usually interested in completing future projects. When choosing marine contractors, figure out which of the two suits your construction needs.


Adaptability
Professional and knowledgeable marine contractors guarantee quality and durable marine construction works. If you need short-term projects, it is vital to choose a contractor who adapts well to unexpected changes.

In other words, hire a marine contractor who responds well to changes arising from the ongoing project. The adaptability nature is important to ensure your project progresses readily.


Good Questions to Ask When Choosing a Marine Contractor
Are you licensed? Request to see a copy of the license and confirm with local licensing agencies
Are you bonded? Ask for proof and check what it covers
Will you complete the project, or will you need subcontractors? Be sure whoever is coming to your job site is qualified
How much will the project cost? Get estimates of the entire project in writing in detail, including time frame break down
How will I communicate with you? It is essential to get an accurate physical address and business phone numbers to inquire about your project on a regular basis
Is a permit required for the construction? Always check with local authorities and confirm the same from the contractor
What are the steps involved in the project? Get a summary of how the project will be done
Ask for references
Red Flags To Watch For
The contractor wants all costs settled upfront or accepts cash only
Provide references that can't be substantiated
Avoids written contracts
Requests a building permit from you
Has high-pressure sales techniques such as special discounts
---
At Duncan Seawalls, we can help you ease the hassle of searching for the best marine contractor. For more information, contact us to learn more today!