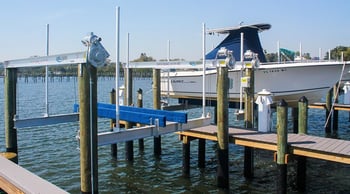 Your boat lift plays two essential roles. First, it keeps your boat safe and secure above water where it won't stain, blister, or attract unwanted growth. Second, a good boat lift makes it easy for you to access your boat whenever you're ready to go out, and easy for you to store once you've spent a long day in the sun.
Related Blog: Duncan Seawall is the #1 Dealer for Golden Boat Lifts, the #1 Boat Lift Manufacturer in the World
But not every boat lift is the same, and if you want durable and long-lasting qualities, then you want Golden Boat lifts. Here are 5 reasons why Golden boat lift drives are superior:
Exclusive Sea-Drive Warranty
Golden boat lifts are so trusted that they come with a 10-year warranty on the housing and gears for all customers who perform regular maintenance on their boat lift.
Two Effective Gearing
Golden boat lifts have two gear set ratios. The high-speed ratio is set at 5:1 for greater efficiency while the low speed gear is set at 96:1 to prevent back drifting. This eliminates the need to use unreliable and sometimes dangerous electric brakes.
High Quality Lubrication
Golden manufactures only the highest quality products. Each Sea-Drive contains a high-viscosity grease that has undergone rigorous testing to ensure it's able to handle the high shear stress that comes standard with lifting and lowering heavy boats. This higher-quality lubricant also prevents any leaking that could be otherwise problematic.
Unparalleled Strength with Flexible Mounting
The Golden Sea-Drive comes with dual flanges to allow for different drive positions. Because it includes the largest drive bolt within the boat lifting industry, Golden boat lifts are capable of producing more than 8000 inch pounds of torque that would otherwise break a lift. This makes the Golden Sea-Drive a must for boat owners with larger boats.
Heavy-Duty Aluminum Housing
The Golden Sea-Drive is constructed from marine-grade 606-T6 aluminum. Such quality material makes it best able to fight corrosion and withstand the extreme temperatures and humidity inherent in Southwest Florida.
The Golden Sea-Drive has been in use for seven years now, with over 14,000 units installed throughout the country. During this period, not one of the clients using their system has reported any lift failures or back driving. This makes it hands-down the best unit available today, and is a large reason why we at Duncan Seawall are so proud to offer them as one of our leading brands.
Contact us to learn more about installing a Golden Boat Lift.