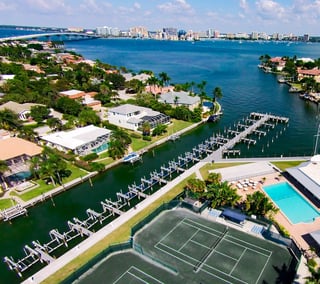 The west coast of Florida is a boater and natures lovers dream. The area has become increasingly popular with tourists as well as people looking to move permanently to a pleasant climate that offers the unlimited opportunity for every water sport imaginable. According to recent data, The growth rate in Florida is the fourth highest in the country at 1.82 percent.
This incredible population growth, in addition to seasonal visitors, makes Florida's Gulf Coast and surrounding area very attractive for any business. Looking to capitalize on consumer wants and needs, developers have discovered that merely having beachfront property is not enough today.

Related Blog: Commercial Marine Construction Project in Sarasota, Florida



Today's consumer is more informed than ever, and they desire to have full access to the Gulf waters and all that it offers. These desired amenities include access to boat rentals, available safe docking locations, adequate lighting, and other touches to make their stay memorable. Commercial Marine Construction has been an integral part of the economy of the west coast of Florida and is poised to be an even more significant asset in the future.
When it comes to commercial marine construction on the Gulf Coast, there is one name that stands above all others: Duncan Seawall Dock & Boat Lift LLC. Located in beautiful Sarasota, Florida, Duncan Seawall has completed projects in Sarasota, Manatee, Charlotte, Pinellas and surrounding counties. Operating since 1979 and building a reputation for excellence and dedication, Duncan Seawall is one of the few contractors able to take on significant commercial projects of any size.
Duncan is an expert in seawall construction, maintenance, and restoration. Seawalls are the first defense in protecting your property from erosion and flooding caused by tides, storms, and hurricanes. With nearly 40 years of marine construction, Duncan has the experience and knowledge necessary to protect your investment from the elements. The construction of a Seawall by Duncan ensures that your property is protected using the latest proven technologies.
Duncan starts with durable precast concrete seawall panels manufactured off-site to their exacting specifications in an ideal, controlled environment. Each eight-inch thick panel is designed to withstand a minimum of 5000 pounds of pressure per square inch (PSI) with continuous rebar throughout. Support for the panels comes from a 20-inch x 22-inch concrete cap, also rated at 5000 P.S.I., and tieback system. Three-quarter inch diameter tieback rods with a six-inch square plate attached to the end and installed into a concrete base in the yard. The system provides incredible structural integrity while ensuring the seawall is also aesthetically pleasing.
Adequate docking facilities have become a must-have for any commercial waterfront enterprise seeking to take advantage of the surge of boaters along the Gulf Coast. Duncan ensures that their docks are built to the highest standards using eight and ten-inch diameter marine grade pressure treated pilings for exceptional stability and to prevent settling. The substructure is attached using all stainless steel hardware to prevent corrosion and eliminate possible lifting of the deck boards. The deck is completed using high-quality decking material such as Trex composite decking, which will provide years of low maintenance use.
For those clients wishing to offer something more than just essential docking facilities for their customers, Duncan installs Golden Boat Lifts and for the past ten years has been their number one worldwide dealer. For 35 years Golden Boat Lifts has perfected the manufacturing process putting design and quality before price. With state of the art technology and years of hands-on experience, Golden Boat Lifts skilled technicians create safe, reliable, easy to operate, good looking boat lifts built to the highest quality standards. Where other lifts manufacturers choose to bolt frames together because "it is good enough," Golden Boat Lifts employ the best welding equipment and highly skilled technicians to ensure that their product is not merely adequate but is the best lift available.
Many marine contractors advise clients to find an electrical contractor when installing docks, boat lifts, and other waterfront electrical amenities. Unfortunately, the average electrical contractor may not have the required experience and knowledge needed for installations on or near the water. Duncan believes that electrical components are such an integral part of the entire project that all electrical connections including those for, dock lighting, boat lifts, dock safety, security options, landscape lighting, and virtually all other electrical needs are taken care of ensuring the highest level of service. Duncan Seawall is Southwest Florida's only marine contractor that has their own dedicated electrical licensed division.
With the perfect marina in place, the only thing that remains is to ensure that the waterways are clear of obstacles and deep enough for safe boating. With experience ranging from the dredging of small marinas and private boat slips to the U.S. Army Corps of Engineers Intracoastal Waterway dredge, removal of 1.2 million cubic yards of material, Duncan has the skilled personnel, experience, and knowledge to plan, acquire the permits, and facilitate any dredging project.
Duncan Seawall has the necessary skill, knowledge, and equipment to complete any commercial marine construction project successfully. Duncan is the only Marine Contractor on the Gulf Coast to offer a complete, seamless, solution to all your marine construction needs. Duncan's total solution and ability to integrate your project seamlessly is a direct result of their dedication to customer service and ensures that they address all your waterfront needs successfully.
To learn more about this or anything else contact us today.