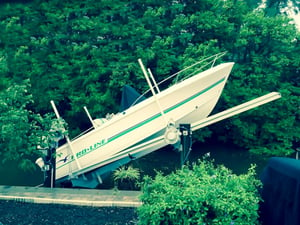 Duncan Seawall receives and responds to over 1,000 service calls each year. Most calls are routine maintenance calls but some are truly emergency situations. We take great pride in our customer service and the following boat lift service testimonial aptly describes our dedication to our customers.
Related Blog: Is 220 a Better Option Than 110 for Boat Lifts?
We received an emergency service call the Sunday prior to Labor Day in the late afternoon. Upon arriving at the home that evening it was determined that the switches on the GEM remote had been accidentally shut off by the customer. This happens occasionally, and in this situation it was due to bad weather causing the customer to rush through the lifting process so that the lift was unintentionally run too high on the front side. Utilizing the customer's new GEM remote system, we were able to unjam the bottom cradle from the top drives and correct the pitch of the boat. We also identified that during the malfunction, one of the boat lift motors had overheated. We were able to replace the broken motor, grease and service the lift, and get everything up and running for the customer's planned labor day trip out on the water the next day.
Here is the testimonial from the happy customer:
"I am so glad I do business with you guys! Sunday, 9/5/15, was a major catastrophe for me. Thank you for providing service that was totally unexpected but VERY MUCH APPRECIATED! Todd Wagner and Jim made a special rescue of my boat after a stupid mishap with my lift that was my fault. They were here pronto on Sunday and as professional and friendly as could be. Thanks for imparting that kind of service into your employees!"
At Duncan Seawall, we do everything we can to make sure our customers are happy and that they get the service they need as soon as possible. If you'd like to start a new dock, boat lift, or seawall project, contact us today and let us show you why Duncan is the best choice for your marine contractor.