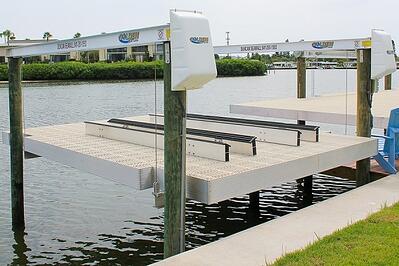 Whether you own a Golden Boat Lift from Duncan Seawall, or one from our competitors, new or old, here are a few helpful tips to ensure your boat lift is working properly and to prolong its life:
Lift Cables
One of the best ways to ensure a long lifespan and proper operation is to rinse the lift cables off every time you use the lift. Saltwater will corrode the cables and reduce their lifespan by half if the lift cables are not rinsed off.
Make sure to inspect your lift cables regularly for any signs of wear. Rust spots, broken strands, kinks and abnormalities are all signs that you may need to replace your cables.


Lift Beams
Every time you use your lift you should rinse the lift beams to rid them of any salt and of any potential barnacle growth. When lift beams are not cared for and rinsed routinely, the salt and barnacles build up, causing the beams to corrode and weaken over time at a much faster rate.
The best way to reduce wear from salt water, barnacle growth and electrolysis is to keep your lift out of the water as much as possible when not in use. Duncan Seawall can install a GEM Remote Box with wireless remote so you can raise your boat lift without having to get out of your boat.
Make sure to regularly check the bunks for any tears in the carpet and worn, broken or rotted areas.
Be sure to check your sheaves (pulleys) for grease. If the sheaves and bolts are not greased every 8 to 12 months (depending on use) the friction between the sheaves and the sheave mounts will increase causing the sheaves to squeak and eventually seize up.

Motors
Regularly inspect your lift motors by removing the covers and checking to make sure that the belts are not loose, broken or frayed. If any of these signs are visible, it is strongly recommended that you have them replaced immediately.
Around every 8 to 12 months, make sure to grease all of your grease points so your motors are able to operate at their optimal performance. Lack of grease causes more friction between parts which will increase the potential for failure.
Following these helpful tips will ensure that you will get the most life out of your boat lift and help you save money and enjoy more time out on the water.
Don't have the time or would rather leave it up to someone who knows all about boat lift maintenance in Sarasota?
Duncan Seawall
has a friendly, knowledgeable marine contractor team and service department who will be more than happy to make sure your boat lift is running at its peak performance.