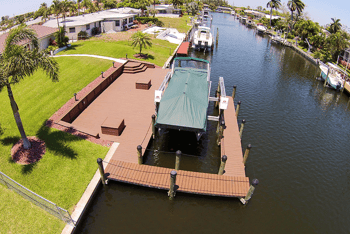 Boat owners invest in boat lifts for a whole host of convenient reasons. Lifts make it easier for owners to fully inspect their boat for cleaning and maintenance and allow the boat to be quickly and efficiently stored and launched when desired.
Waterfront real estate owners have plenty of options when it comes to choosing the ideal boat lift design for their boats. Here are a few key boat lift design ideas and construction concepts to keep in mind:
Related Blog: Marine Construction Project Gallery in Venice, Florida

Sling vs. Cradle
How your boat is launched into and raised from the water will largely depend on the layout of your waterfront property. Most boat lift design ideas are built with cradle­lifts in mind, in which the lift is constructed similar to a trailer and use bunks to 'cradle' the hull. However, if yours is a more shallow shoreline, you might consider a sling-style lift as the slings are capable of lying flat on the bottom for greater flexibility.

Length and Size of Construction
Before you set out making your boat lift design ideas a reality, it's important to consider the length and width of your boat before construction begins on your waterfront property. The lift's beam must be capable of supporting the boat's weight both currently and with any future upgrades you might make. If you are thinking of buying a larger boat in the future, even if it's years down the road, be sure to build your boat lift with the
larger hull in mind.

Materials
Most boat lifts are built with either aluminum or galvanized steel. There are many advantages to aluminum over galvanized steel as it is more corrosion resistant, flexible, a great thermal conductor, and weather resistant. Aluminum is also lightweight and a cheaper material to produce. Galvanized steel is more corrosive especially in salt water and due to its zinc coating which corrodes faster from the electrolysis in the water.

Welded vs. Bolted Boat Lift
There have been numerous debates regarding if bolted boat lifts are superior to welded boat lifts. According to Golden Boat Lifts, the LARGEST boat lift manufacturer in the world, welded is far superior to bolted and they have the information to back it up.

"When you bolt aluminum with a stainless steel fitting you create an environment for electrolysis due to the dissimilar metals involved. Drilled aluminum holes with a stainless steel bolt through it becomes pitted and weakened when in saltwater. Left unattended this will cause a failure. All critical parts are welded on all of Golden's boat lifts. It is very important that the load bearing parts that go into the water are welded for a safe and reliable boat lift. After 15 years of watching the effects of aluminum and stainless steel together in a saltwater environment, we will never bolt a load bearing part and only use bolted assemblies on parts that need to be adjusted."

"Some say that welded lifts are not as strong. Well, they are wrong. If welded properly, the structure becomes stronger in the welded area due to the heat tempering process. The welds will ever corrode, crack, or break if welded correctly. Welding is more expensive compared to drilling and bolting, it takes hi-tech equipment and skilled craftsmen to deliver the fine welded products built by Golden Manufacturing. When welded the material becomes one with no dissimilar metals to cause corrosion problems.

To learn more about the different features and boat lift design ideas common to waterfront properties in Venice Beach, FL, contact us today at Duncan Seawall, Dock & Boat Lift.