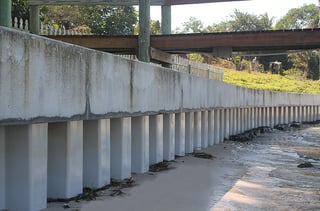 Vinyl seawalls are a newer option when compared to concrete, steel, and wood seawalls. What we do know is that a vinyl seawall is a cost-effective alternative to aging or failing concrete seawalls.
Related Blog: Don't Ignore the Signs of Seawall Erosion
Vinyl Seawalls: An Economical Option
We're beginning to see that vinyl seawalls are proving to be a good seawall material when compared to the different types of seawall materials.
Concrete Seawalls' Strength and Limitations
At Duncan Seawall, Dock & Boat Lift, LLC, we are Southwest Florida's leader in installing quality concrete precast seawalls. Although concrete seawalls offer years of waterfront protection with regular inspection and maintenance, there can be limitations to using concrete.
The concrete panels require heavy-duty equipment that may not be supported by certain waterfront properties.

Concrete seawalls are more expensive due to the material handling and manufacturing involved.

Concrete seawalls have a porous characteristic, and the saltwater can seep in and cause rusting to the inner steel rebar.

Steel Seawalls Susceptibility to Salt Water
While steel offers exceptional strength, steel seawalls are susceptible to the corrosion of saltwater and other factors.
Wood Seawalls Not Recommended for Salt Water
Wood-constructed seawalls can last in the right place. It's important to consider "factors as weather and tidal impacts."
Composite Seawalls Not as Tough
Composite seawalls offer a quick installation solution, but they are not as resilient compared to seawalls constructed with concrete or steel.
The Benefits of Vinyl Seawalls
Vinyl seawalls are proving to offer multiple benefits, and they are weathering the elements here in Southwest Florida.
1. Concrete Combined with Steel and Protected by Vinyl: An Excellent Choice
Vinyl seawalls have the inner strength of concrete and steel rebar. There are reasons we for using this type of seawall.
2. Easier to Construct and Less Expensive
There is less time involved in constructing a vinyl seawall. The heavy equipment needed to construct a concrete seawall is not necessary to build a vinyl seawall. Ultimately, the cost of a vinyl seawall is an attractive consideration.
3. Resilient to UV Rays
Vinyl seawalls have less deteriorating possibilities than other seawall construction materials. One considering factor is the protection vinyl has to resist the damaging ultraviolet rays from Florida's intense sunlight.
4. Resilient Against Marine Mollusks or Crustaceans
Marine borers can be a problem with wooden seawalls. Vinyl seawalls do not offer an attracting material for marine life to bore into and damage.
5. Less Maintenance Involved
With the concrete and steel rebar sealed inside the interlocking, protective vinyl sheets, there is less maintenance required to maintain vinyl seawalls. From the time installed, there is little to no change in the appearance of vinyl seawalls.
6. Showing Strength Against Impact of the Tides
From what we know so far, vinyl seawalls are proving to be resistant to the impact of the waves and strong tides.
7. A Long Life Span is Possible with Routine Inspection
All types of seawalls require routine inspection, especially after damaging storms and hurricanes. As long as there is no shifting of the adjacent waterfront property or severe movement of the ocean's floor, we believe vinyl seawalls can "last around 20 years."
However, the strength and durability of our vinyl panels are made to withstand the harsh elements of the sea. With proper inspection, the life span could last much longer than ever expected.