A great letter of recommendation from another happy client!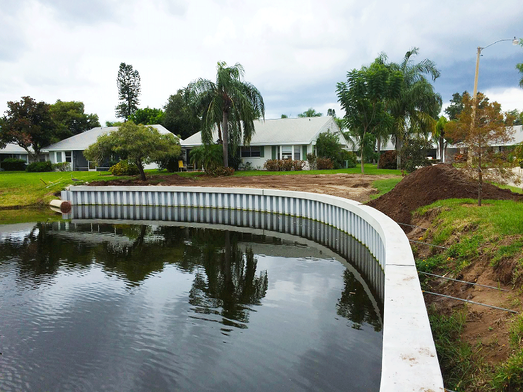 "In the summer of 2014, the Mount Vernon Condominium Association of Bradenton, Florida hired Duncan Seawall to construct approximately 350 feet of seawall along the shore of one of its inland lakes."
Related Blog: 4 Reasons Seawalls Fail and How to Prevent it
"The banks of the lake were steep at the water's edge and were severely eroding. One of the houses, as close as 15 feet from the top of the bank, had evidence of structural damage from the erosion of the soil and in another area the banks were subsiding close to the edge of the road. The latter was the reason for installing the existing seawall. Correction was needed to stabilize the bank. There are pictures available showing the extent of the bank erosion before the work was conducted by Duncan Seawall.
The Duncan Seawall work crew was diligent and professional in their construction of the seawall. The entire vinyl seawall was driven into the soil at the water's edge by hand. This hand work minimized the construction damage to the adjacent grassed area and roadway from heavy construction equipment. The crew worked tirelessly in the lake to drive the vinyl sheet piles into the soil. The seawalls had to be installed on either side of an existing 100-foot seawall, which had to be tied into the new seawall. During pre-construction meetings with staff at Duncan Seawall, we asked that they install the s-shaped seawall including the concrete cap of the wall in a smooth, curved transition around the edge of the lake. We did not want a wall with the "chopped up" appearance of long straight wall segments that aesthetically would not be as pleasing to the eye as a continuously smooth transition of the wall around the lake. You can see from the "after" pictures how beautiful the wall looks with its smooth arched layout. This work was conducted with very little supervision by staff at Mount Vernon. We would highly recommend Duncan Seawall if you are considering constructing a similar seawall."