Watch out for these signs of seawall erosion to make sure your seawall stays as strong as possible during storm season and against the everyday wear and tear.
Related Blog: 7 Practical Boating Tips for Beginners


1. Obtain a pressure washer and learn how to use it
Regular, thorough cleaning can go a long way toward ensuring the longevity of your dock. Before you employ a pressure washer on your dock, however, be sure you know how to use it the right way. A pressure washer is an incredibly powerful tool that can do more harm than good in untrained hands. Start with a fan-tip nozzle and never hold the washer any closer than one inch away from the dock deck. Any nearer, and you are at risk of damaging the deck. If your dock is built with cedar wood, never use pressure that exceeds 600 pounds per square inch.
2. Be mindful of the marine environment
Pollution can be an issue in southwest Florida, so be sure you don't contribute to the problem. If you can, build your dock well away from wildlife habitats and nesting areas. Build a dock as wide as you can, too. A wide dock reduces overall water motion and keeps the water around your dock as undisturbed as possible. This step ensures a natural balance of minerals in the waters that surround your boat dock, too. When you clean your boat dock, use gentle, biodegradable cleaning products. A paste of baking soda and water can be used to great effect. Likewise, a mixture of olive oil and white vinegar can be utilized to scour away oil stains on your Florida boat dock.
3. Re-stain your deck every year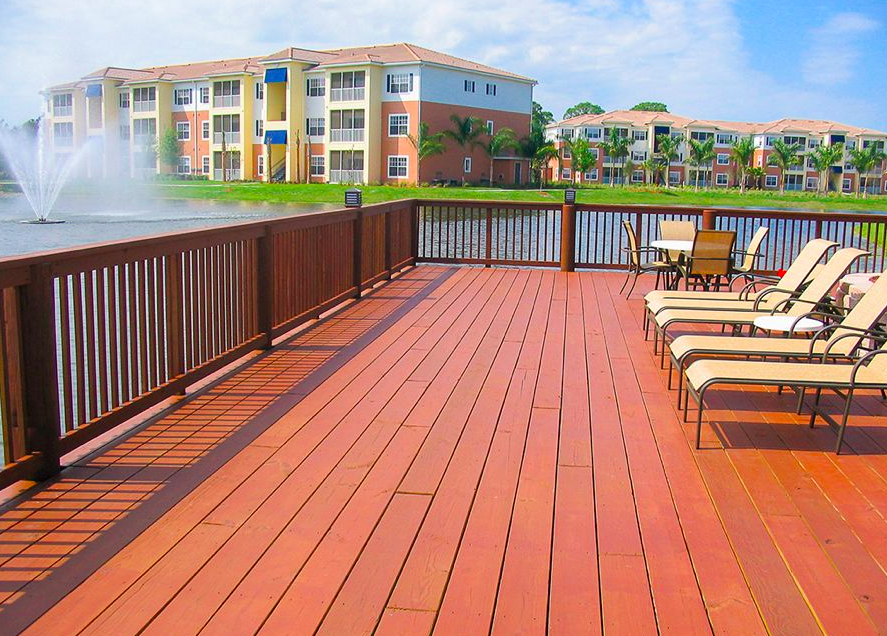 Important annual maintenance of your boat dock should include re-staining. Use a water-based stain that won't hurt the fish and fowl that live near your dock. As a general rule of thumb, it's best to re-stain during cooler months when water levels at your dock tend to be lower. Re-staining while tides are low means less chance of stain pigments landing in the water. A fresh stain doesn't only make your dock more attractive. Fresh stain applied regularly may also extend the life of your boat dock.
4. Use rub rails, bumpers, and boat fenders
Few things can shorten the lifespan of your deck quicker than a bouncing boat. That's why edging in the form of rub rails and boat fenders is so crucial. When rubber, whether in the form of recycled hose or professionally installed marine grade edging is in place, your dock is less likely to need extensive repair due to repeated collisions between boat and dock. As a bonus, proper rub rails can extend the good looks and seaworthiness of your boat.
5. Build and repair your dock with pressure-treated wood
Southwest Florida weather can take a lot out of a wooden boat dock. For this reason, always insist on pressure-treated wood for dock construction. Pressure-treated dock pilings and decks are made to withstand the rigors of hurricanes, high tides, and anything else one might expect in this
marvelous part of the Sunshine State.
---
The surest way to enjoy a long-lived dock is to hire an experienced builder who enjoys the local Florida coastline as much as you do. Duncan Seawall is your southwest Florida neighbor, and we'd love to build your next boat dock. Contact us today to get started!