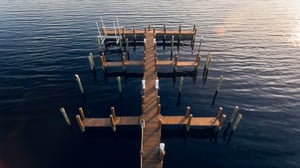 If you've just built a new dock or are thinking about building one, you may have a few questions about the basics and where to start. We can help.

Related Blog: 6 Tips To Help Keep Your Boat Dock In Optimal Condition


Address How to Use Your Dock Safely
It's best to first assess the safety-readiness of your dock and learn how to safely use it before you do anything.
You may have secured a dock inspection prior to ownership, which would help you identify any areas that require attention. If you did not, it might be a good idea to verify when the dock was last inspected.
Obvious hazards for tripping, stability, and integrity of the wood can be visually observed.
Electricity, on the other hand, can present hidden dangers because both docks and boats carry power. You can inspect some items yourself by observing your wiring to identify any cracking or fraying. Look for any deterioration or damage to any of the power pedestals.
How to Keep Up With Dock Maintenance
As with any other property you may own, routine maintenance can preserve the condition and extend the life of your dock. A professionally built dock without regular maintenance can have roughly a 15-year life span.
Scheduling and performing routine maintenance can add up to an additional ten years of dock life. Be sure to set and adhere to a schedule of cleaning your dock and area. Pressure washing annually can help keep the debris from creating slip hazards and minimize further damage.
If you're not sure when your dock was last protected with a sealant, you may want to consider doing so. It's recommended to reapply every five years, depending on the weather and usage conditions, to protect the integrity of the wood.
Should you identify any areas for repair, whether it be corners, steps or wood, it's best to do so immediately. Prolonging small repairs can increase the likelihood of worsening issues. If your dock has steel or metal surfaces, stay on top of any fresh rust that may need resurfacing.
Upgrades & Accessories For Your Dock
Maybe you feel your dock is in good condition overall but you want to make a few upgrades or add features to make it that much better.
You can always make small additions, like retractable aluminum ladders, kayak rollers, or replacing davit bases. Some projects can be custom designed and more intensive. Consider upgrading your boat lift, or adding additional dock space overall. You can plan your upgrades in manageable stages over time, or you can design all your dream updates to be custom built in one project.
Minor projects can be done throughout the peak boating season with minimal intrusion on the usage of your dock. Those more significant projects can take a bit longer, so plan your downtime accordingly.
Dock life is rewarding, and the key to getting the most out of your dock is knowing and applying some of these basics to set yourself up for long-term enjoyment.
---
For everything dock related (from inspections to repair and additions/expansion), contact us at Duncan Seawall and we'd be more than happy to make your vision come true.