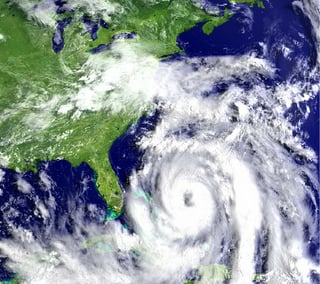 Waterfront properties in Florida provide outstanding views, home values, and the easy boating and fishing opportunities. However, with all of these amazing advantages, there comes the necessary task of preparing for and weathering out the hurricane season each year.
Related Blog: How to Prepare for Hurricane Season in Florida
Even the smallest of tropical storms can lead to shoreline damages from the churning up of rough seas and high winds. The best way to mitigate this turbulent weather is to be prepared and know what the predictions for the upcoming year are. Get started this year with the following glimpse of the major 2017 Atlantic hurricane predictions:
2017: Outlook Says Near to Above Normal Hurricane Season
Meteorologists list the Atlantic hurricane season as running from June 1 through November 30. Of course, storms aren't always so kind to stay within our scheduled dates. We saw this earlier this year when Tropical Storm Arlene kicked off the Atlantic hurricane season over a month early when it officially became designated a tropical storm on April 20.

Forecasters predict Arlene will be far from the only outlier this year. Current predictions from the National Oceanic and Atmospheric Administration list a 45 percent chance we will see an above-normal hurricane season, a 35 percent chance of a near-normal season, and only a 20 percent chance of a below-normal season.

So, what does this mean for homeowners? This prediction translates to an anticipated 70% likelihood of there being somewhere between 11 and 17 tropical storms forming in the Atlantic this year -- of which Tropical Storm Arlene is counted as number one. A tropical storm is defined as any localized windstorm that reaches wind of 39 miles per hour.

Of the 11 to 17 tropical storms anticipated this hurricane season, forecasters believe between 5 and 9 of those will grow to hurricane size with winds of 74 miles per hour or higher. That includes a potential of 2 to 4 of what meteorologists call 'major hurricanes' (Category 3, 4, or 5 storms that consist of winds of 111 miles per hour or higher).

To give you a baseline of how this ranks among past hurricane season experiences, the average season will produce 12 named storms of which 6 will become hurricanes and 3 of those hurricanes will grow to become 'major hurricanes'. In other words, you can expect just a slightly more active season this year.
Protecting Your Waterfront Property From Storm Surges and Strong Waves
While tropical storms and hurricanes might be defined by the force of their winds, winds and rainfall aren't what cause the most damages. The deadliest and most damaging aspect here are the storm surges.

Storm surges form as the tropical storm or hurricane travels over warm water. The storm increases in strength the more it sucks up heat and moisture from the water. With that growing strength the storm's winds slam against the surface of the water to force waves to build up higher and higher. It can take many hours for this storm surge to build. But once it slams against the shore, it can cause devastating damages.

1. Get Insured: One of the best things you can do for your home is to ensure you have a fully comprehensive flood insurance policy that protects against storm surges. (If you are new to Florida, it's important to note that general homeowners insurance will not cover property damages from flooding or storm surges).

2. Building a Seawall: If you own a waterfront property, whether you're on the Gulf, the Atlantic, or a lake, it is important to consider installing or upgrading your bulkhead or seawall design. While these two words are interchangeable, there is a unique difference between bulkheads and seawalls:
Bulkheads are vertical shoreline stabilization structures that are designed to primarily retain soil but also provide some wave protection.
Seawalls are structures that are designed to primarily provide shoreline protection from waves but also works to retain soil.
3. Always Evacuate When the Call Comes: Finally, when tropical storms do grow into hurricane force winds, it is important for South Florida homeowners and residents to pay special attention to the news. If it appears to be heading toward your area, consider boarding up your home and heading out. If emergency personnel say that landfall near your home is expected, you should absolutely follow evacuation routes to higher, safer ground. Be sure to stay safe this hurricane season!