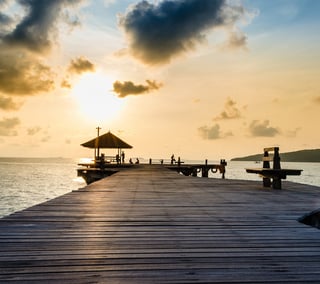 Owning a dock means taking on the responsibility of keeping your deck in a safe condition. Since the most common problems are dirt buildup or the surface becoming slippery, occasional cleaning is necessary.
Most deck materials are easy to clean, here are some helpful pointers:

Related Blog: 8 Boat Safety Tips to Keep Your Dock And Boat In Pristine Condition


Pressure Treated Lumber
Protective chemicals are forced into pressure treated lumber to prevent insect and weather-related decay. This type of material can be painted or stained, or left in its natural-appearing condition. It is a very low maintenance type of decking, and tends to be more affordable than other dock materials.
This type of material can be cleaned using biodegradable detergents, or pressure washed with water. Cleaning is not necessary on a regular basis, and is only required every year or two, depending on dirt buildup or discoloration.
A pressure washer is the easiest and least labor-intensive method. To clean a pressure treated dock with detergent, use a solution that is approved for use in an open environment and a stiff brush or scrubbing tool. It is also important to note that pressure treated lumber that is periodically submerged may experience salt-related discoloration.


Tropical Hardwoods
The most attractive aspects of tropical hardwoods are their appearance and durability. This type of wood is more expensive than pressure treated woods, and requires occasional maintenance. While tropical hardwoods may be painted, this is not usually done as it would detract from the natural beauty of the wood grain and appearance.
Hardwood can be washed with a stiff brush or pressure washer as needed. To achieve maximum appearance and longevity, hardwood docks should be sealed or stained periodically. Washing and sealing should take place every 1 to 2 years, as desired or needed.
Composite Decking Materials
Typically made using recycled plastic and resins, this type of dock is designed to resemble wood in appearance, but is built to last for much longer periods of time. It is not vulnerable to weathering, and only requires infrequent cleaning. Manufacturer specifications say that cleaning is necessary once every other year.
Pressure washing with water is the best way to clean composite decking. The material is not prone to material absorption, but may accumulate dirt over time and occasionally shows signs of minimal algae buildup.
Recycled Plastics
Recycled plastic lumber is similar to composite decking, but its recycled nature means that it is more sustainable and is also a better environmental option. This material is ideal for painted docks since it bonds well to both latex and acrylic paints.
Paint should be applied every 2 to 3 years.
Between paint applications, and prior to repainting, recycled dock materials can be cleaned to prolong appearance and material design safety.
Pressure washing may cause paint to peel or fleck, and should be avoided. Instead, a medium bristle brush or similar scrubbing tool should be used. For any open-atmosphere washing procedure, be sure to use environmentally friendly detergents that conform to local ordinance and homeowner organization requirements.
Recycled Composite Material
Sustainability is becoming a popular trend in Florida, and Duncan Seawall is doing their part, by making recycled composite docks an option for all homeowners and commercial businesses. We offer Trex® decking as a popular choice. Made from 100% recycled material, this type of dock decking is available in an assortment of wood-like grains, and does not need to be stained or painted.
Because it is manufactured to look like wood grain, this material is resistant to weathering and only needs to be cleaned occasionally. The easiest, fastest method is to use a pressure washer, also biodegradable detergents applied with a medium-to-stiff bristle brush or scrubber will not damage the appealing surface.
---
Duncan Seawall, Dock, & Boat Lift has completed many residential and commercial marine construction projects in Southwest Florida, including several award-winning municipal projects. Whether you represent a major corporation or are a private homeowner, we will provide you with professional start-to-finish work and industry best materials that offers you years of quality enjoyment. To learn more about our dock and seawall experience, please contact us.