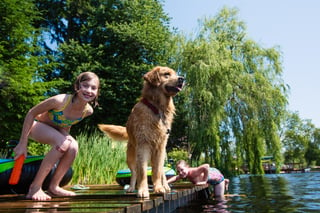 Having a waterfront home gives you amazing views and easy access to aquatic activities including boating, fishing and swimming. However, if your young grandchildren are visiting this summer, you need to follow some important safety tips to prevent accidents and make sure everyone enjoys the water responsibly.
Related Blog: How to Prepare Your Florida Waterfront Home for Hurricanes and Severe Weather
Dangers of water for children
According to Safe Kids Worldwide, an advocacy group of child safety, water is one of the main causes of death for kids, but only 34% of parents know this statistic. The Centers for Disease Control and Prevention reports that approximately 800 children drown every year and that drowning is the main cause of deaths related to injury in children 1-3 and second leading cause of death for children 15 and under. Most drownings are the result of poor supervision so it's even more vital that you follow safety tips and have measures in place to keep your grandchildren protected.
Keep a watchful eye near water
Children 5 and under are more likely to drown in swimming pools while children ages 5-14 have a higher incidence of drowning in lakes, rivers and oceans. Following safety tips can help prevent drowning and other water accidents. Staying safe by water requires keeping your eyes on your grandchildren whenever they're near the water and never leaving them unsupervised, no matter their age. Even confident swimmers can run into problems in water if they're tired, dazed or get caught up in a dangerous current. Watch your grandchildren at all times and if you're leaving the waterfront area or pool, bring them with you away from the water.
Swim in proper areas
Make sure your grandchildren swim in an area of the pool they can swim confidently in and are within easy reach if they start to grow tired. When swimming in the ocean, be aware of strong currents and high and low tide times to avoid children being dragged under the water.
Safety gear
Whenever your grandchildren are on a boat, raft, wave rider or other water-going vessel, make sure they're wearing a life preserver approved by the U.S. Coast Guard. Although arm inflatables, foam noodles and other inflatables are popular pool gear for young children, they won't prevent drowning.
If you can't watch your grandchildren constantly, one of most important safety tips is to keep water areas closed off until you can all be near the water together to enjoy the view and activities.