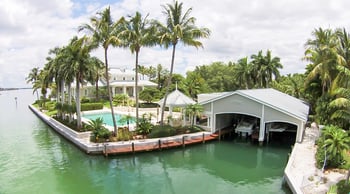 As a full-­service marine construction company, Duncan Seawall Dock & Boat Lift boasts of an unmatched quality of workmanship while committing to unsurpassed customer service. And with a plethora of rave reviews, our customers sure seem to agree. Check the top 10 reviews below, to see what their satisfied customers have to say:
Related Blog: Why We Built a Dock and Boat Lift Marine Construction Design Center

According to Joe M., Duncan Seawall Dock & Boat Lift is the best local dock and seawall company. In his opinion, a fantastic showroom makes choosing the options and features truly a unique experience.

Charlie C. shares this point of view, saying that Mark Parson and his team performed an outstanding job at his house in Holmes Beach, repairing the seawall and rebuilding the dock. He believes that the team of marine contractors from Sarasota was professional and diligent, and would gladly have them back.

Ronnie DeWitt, who had a pleasure of meeting the company's owner, is very impressed with the level of service she had always received. She found the staff prompt, courteous, and extremely knowledgeable and gave the company perfect 5 out of 5 stars rating for their top­-notch products and excellent staff.

Alyssa S. also enjoyed a super professional experience with this company! They showed up as expected, presented a relatively reasonable quote, and completed the work as scheduled. Workers were professional and they cleaned up after themselves after the job was over!! In her opinion, the project was worth every penny and is planning to use the company for her future dock repairs.

Another happy customer who thanked Duncan Seawall Dock & Boat Lift for their intimate attention to every aspect of his recent dock construction is Tim. In his opinion, his site with 270 feet of walkway through wetlands terrain had to be among the most challenging locations for the building team, but the final result still had him beaming with pride. With a myriad of ways to spend the same amount of money, he couldn't think of a single one that would increase the value of his property more than the completed dock.

Bob from Longboat Key needed an old boat dock replaced at his new home. Concerned that his new dock wouldn't be able to accommodate his 42' sport cruiser plus 27' fishing and sport boat on his 100' lot and still comply with HOA and community regulations, he contacted Duncan. Bob received friendly and efficient professional service throughout the design and permitting process, and felt comfortable with the fully detailed and complete construction agreement. Duncan installed a Golden Boat Lift that fits his boat perfectly and is easy to use, level, and quality. Duncan's own internal electrical and plumbing division was an added bonus, making certain parts of the project convenient and easy.

Dan sent in a letter thanking Duncan for their installation of electric and water as well as lift installation, noting that Troy from the electrical division came running out to his house late Friday on a holiday weekend to fix a small emergency. His lift was installed perfectly, and he recommends Duncan Seawall, Dock and Boat Lift for anyone looking for a fair price, good product, integrity and lack of surprises.

John and Maureen are very pleased with the wonderful work Duncan did building their new dock, as well as taking care of repairs on the existing structures, building custom benches on the dock, and more. Everyone they have had contact with from Duncan have been "so amazingly helpful" to them, and they are very pleased to have worked with such professional and helpful people.

Another happy Duncan customer, Maggie, said her marina got more than they bargained for with Duncan. Not only did they fortify their seawall as contracted, but also enhanced the appearance of the marina island. She emphasized that John and his crew worked non-­stop through the hottest days of summer, and were always quiet and courteous, providing minimal disturbance to their owners and boaters. Her company highly recommends Duncan to anyone seeking their services.